Latest topics
| | | |
| --- | --- | --- |
| U90C eSports - April FIFA20 - Monthly Tournament Series | Yesterday at 12:08 pm | |
| Coronavirus Thread | Yesterday at 10:03 am | |
| NTX Soccer Teams Representing | 02/04/20, 09:12 am | |
| "Get In The Game" - U90C eSports (Week 2) | 01/04/20, 01:06 pm | |
| Real Colorado leaving Girls DA | 31/03/20, 11:14 am | |
| YNT Mini-Camp | 27/03/20, 10:48 am | |
| U90C eSports Tournaments | 24/03/20, 07:19 pm | |
| United GoalkeepingUSA; WE CARE ABOUT YOUR HEALTH | 24/03/20, 05:58 am | |
| United GoalkeepingUSA,WE CARE ABOUT YOUR HEALTH!! | 24/03/20, 05:54 am | |
| TP Supplies | 19/03/20, 07:40 pm | |
| What Happened At The NTX Celtic Game? | 18/03/20, 01:52 pm | |
| Remove the SPAM | 17/03/20, 08:06 pm | |
| Rayos 07 Martinez | 10/03/20, 11:29 pm | |
| Skills Training in Dallas TX | 10/03/20, 04:00 pm | |
| Skills Training in Richardson TX | 10/03/20, 03:58 pm | |
| Richardson TX Training Camps | 10/03/20, 03:52 pm | |
| FCD DA vs Solar DA '05 | 10/03/20, 01:22 pm | |
| Impact FC 06G Bertelsen/Roster Additions | 09/03/20, 06:49 pm | |
| Renegades 12G North - Blanton | 08/03/20, 10:23 pm | |
| Spring Break Camps Start Next Week! | 06/03/20, 05:02 pm | |
| A FREE Pick-Up Party Just For You (3/8/20) | 06/03/20, 04:58 pm | |
| 6v6 Soccer Leagues @ City Sports Park | 06/03/20, 04:53 pm | |
| 4v4 Soccer Leagues @ City Sports Park | 06/03/20, 04:50 pm | |
| Renegades 2010G Open Trainings | 06/03/20, 03:55 pm | |
| Renegades 2010G Open Trainings | 06/03/20, 03:55 pm | |
Be An Athletic Supporter!
Donate and get this nifty tag!
Statistics
We have
14151
registered users
The newest registered user is
doplico
Our users have posted a total of
196171
messages in
27799
subjects

Here is the list of all the 06AP teams I have in FBR if you do not see your team and you are 100% 06 AGE PURE or younger please let me know!  These teams have either played in a tournament recently or are playing in the PT, UAL, or Arlington leagues this Spring.   Thank you!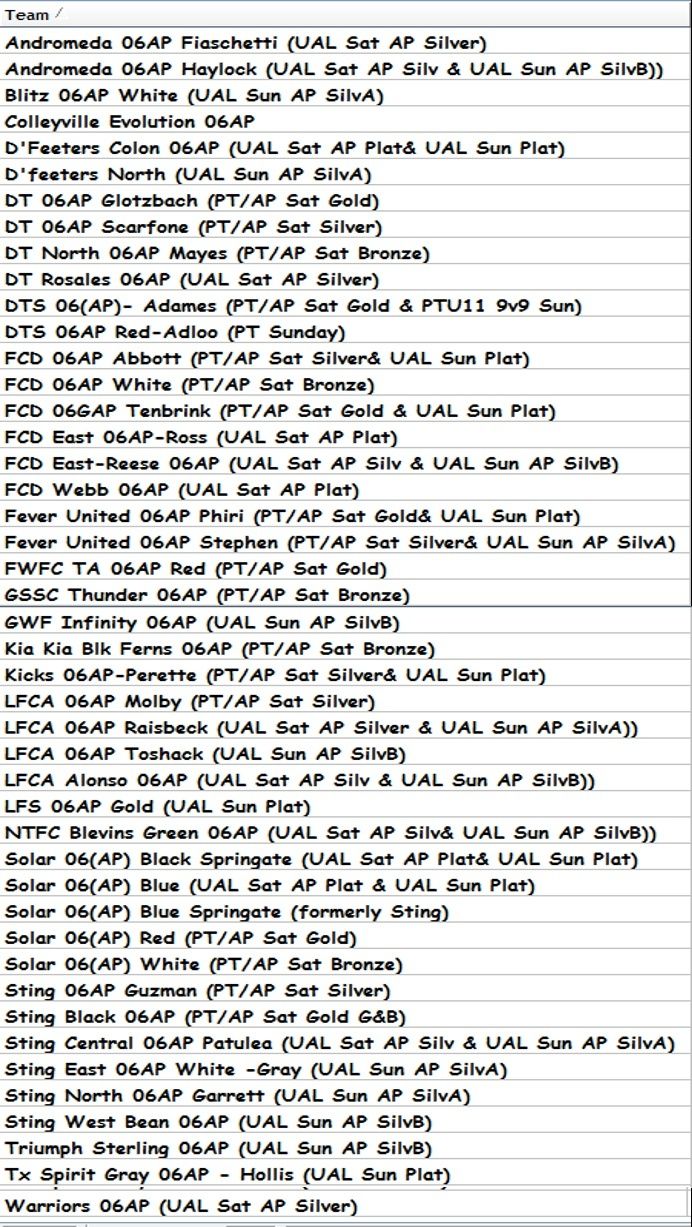 FBR06G

TxSoccer Postmaster





Posts

: 375


Points

: 2511


Join date

: 2015-02-27


Age

: 48



Some questions have been asked about what teams are on list and why some are not

If you have AP06 by your team name you are on list

If you are playing in an 06AP division you are on list (except for two teams at UAL that have 05 by their name)

If you have confirmed with me that are are AP06 even though you are not in an AP division or don't have AP06 by your name you are on list.

Any team that plays with an 05 their games are still included but their team name is hidden in FBR.   If you play one day with all 06AP and another day with a few 05s I have two accounts for your team and hid the team with 05s from list.
Last edited by FBR06G on 08/02/16, 09:18 pm; edited 1 time in total

FBR06G

TxSoccer Postmaster





Posts

: 375


Points

: 2511


Join date

: 2015-02-27


Age

: 48



updated based on messages received from coaches about their teams


FBR06G

TxSoccer Postmaster





Posts

: 375


Points

: 2511


Join date

: 2015-02-27


Age

: 48




---
Permissions in this forum:
You
cannot
reply to topics in this forum