Latest topics
| | | |
| --- | --- | --- |
| Real Colorado leaving Girls DA | Yesterday at 04:29 pm | |
| Coronavirus Thread | 06/04/20, 07:38 pm | |
| U90C eSports - April FIFA20 - Monthly Tournament Series | 05/04/20, 12:08 pm | |
| NTX Soccer Teams Representing | 02/04/20, 09:12 am | |
| "Get In The Game" - U90C eSports (Week 2) | 01/04/20, 01:06 pm | |
| YNT Mini-Camp | 27/03/20, 10:48 am | |
| U90C eSports Tournaments | 24/03/20, 07:19 pm | |
| United GoalkeepingUSA; WE CARE ABOUT YOUR HEALTH | 24/03/20, 05:58 am | |
| United GoalkeepingUSA,WE CARE ABOUT YOUR HEALTH!! | 24/03/20, 05:54 am | |
| TP Supplies | 19/03/20, 07:40 pm | |
| What Happened At The NTX Celtic Game? | 18/03/20, 01:52 pm | |
| Remove the SPAM | 17/03/20, 08:06 pm | |
| Rayos 07 Martinez | 10/03/20, 11:29 pm | |
| Skills Training in Dallas TX | 10/03/20, 04:00 pm | |
| Skills Training in Richardson TX | 10/03/20, 03:58 pm | |
| Richardson TX Training Camps | 10/03/20, 03:52 pm | |
| FCD DA vs Solar DA '05 | 10/03/20, 01:22 pm | |
| Impact FC 06G Bertelsen/Roster Additions | 09/03/20, 06:49 pm | |
| Renegades 12G North - Blanton | 08/03/20, 10:23 pm | |
| Spring Break Camps Start Next Week! | 06/03/20, 05:02 pm | |
| A FREE Pick-Up Party Just For You (3/8/20) | 06/03/20, 04:58 pm | |
| 6v6 Soccer Leagues @ City Sports Park | 06/03/20, 04:53 pm | |
| 4v4 Soccer Leagues @ City Sports Park | 06/03/20, 04:50 pm | |
| Renegades 2010G Open Trainings | 06/03/20, 03:55 pm | |
| Renegades 2010G Open Trainings | 06/03/20, 03:55 pm | |
Be An Athletic Supporter!
Donate and get this nifty tag!
Statistics
We have
14151
registered users
The newest registered user is
doplico
Our users have posted a total of
196173
messages in
27799
subjects

PLEASE NOTE ALL GAMES FOR 2015 HAVE BEEN DROPPED!!!    SO THERE HAS BEEN SHIFTING.   ALSO NOTE THAT DUE TO LESS TEAMS IN SYSTEM AS A RESULT OF DROPPING 2015 GAMES THERE ARE NOW 5 TIERS INSTEAD OF 6.   IF 6 TIERS ARE NEEDED LATER ON I WILL ADJUST AT THAT TIME.   I WILL POST THE TIERS FOR YOU TO SEE.  IF YOU HAVE A QUESTION FEEL FREE TO ASK JUST GIVE ME A BIT TO RESPOND!!!  
Updated FBR as of 3/21/16. Only 06AP teams with 3 or more games since January 15, 2016 are included in the FBR published rankings. All games in the U10 leagues and tournaments that "publish results" are included even if they are still 05/06 teams.  However, only teams that are playing as 06AP teams are included in the rankings (players born Jan 1, 2006 and younger only).  Any team with a Aug 05 to Dec 05 player has been excluded from the published rankings.
If your team is missing and you are 06AP with three or more games in please verify with me that you are 06AP now and I will start including your team.  If you are a team that plays one day with 06AP and one day with traditional aged 05/06 players I have two accounts for your team and only the 06AP account will be published in FBR.
As always regulation scores are used for FBR....not OT and no PKs that determine a game result. No U11 games are included in the data.  FBR is presented as W/L/T not W/T/L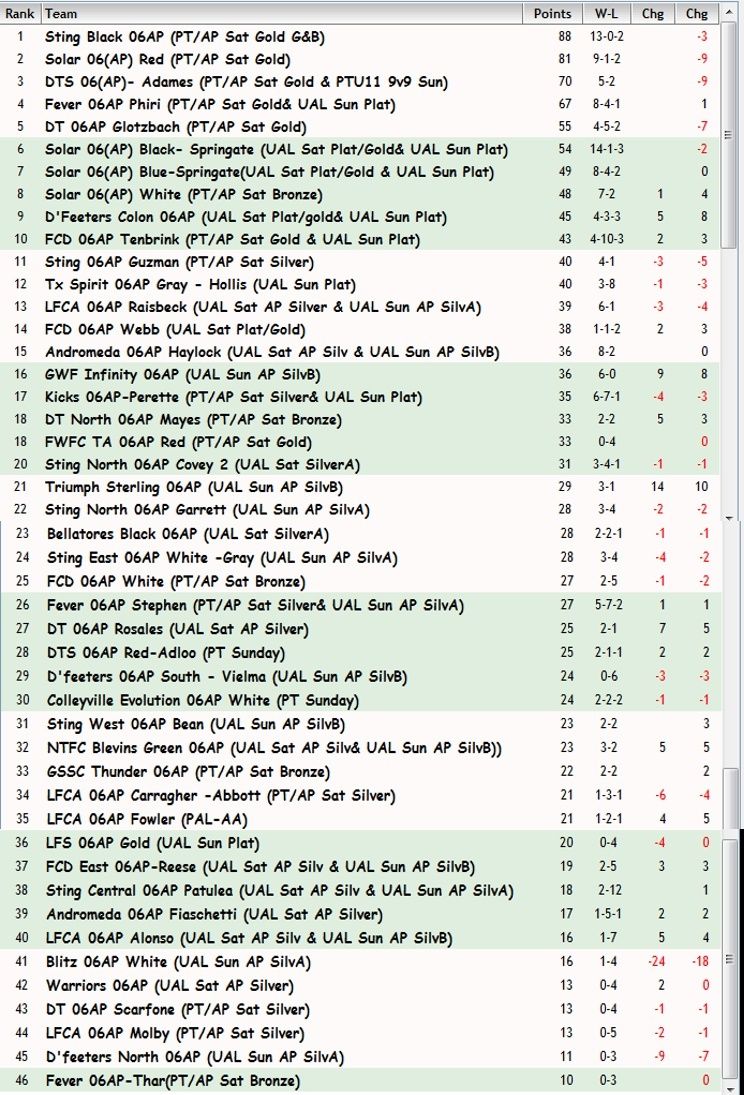 FBR06G

TxSoccer Postmaster





Posts

: 375


Points

: 2513


Join date

: 2015-02-27


Age

: 48




FBR06G

TxSoccer Postmaster





Posts

: 375


Points

: 2513


Join date

: 2015-02-27


Age

: 48




FBR06G

TxSoccer Postmaster





Posts

: 375


Points

: 2513


Join date

: 2015-02-27


Age

: 48




FBR06G

TxSoccer Postmaster





Posts

: 375


Points

: 2513


Join date

: 2015-02-27


Age

: 48




FBR06G

TxSoccer Postmaster





Posts

: 375


Points

: 2513


Join date

: 2015-02-27


Age

: 48




---
Permissions in this forum:
You
cannot
reply to topics in this forum