Latest topics
| | | |
| --- | --- | --- |
| King Tut | Yesterday at 10:27 pm | |
| Top 10 | Yesterday at 08:43 pm | |
| Sad Days | Yesterday at 07:48 pm | |
| Champion of all Champs | Yesterday at 07:39 pm | |
| CG United has two roster spots open | Yesterday at 05:41 pm | |
| Need to find a team... | Yesterday at 02:43 pm | |
| Fever United 08B | Yesterday at 09:29 am | |
| Dallas Texans 09g Samba - open tryouts - bye into LHGCL | Yesterday at 07:25 am | |
| BVB 02G Black - LHGCL D2 | 18/07/19, 07:57 pm | |
| Mckinney United 07G McKinney-Frisco-Prosper | 18/07/19, 07:32 pm | |
| McKinney United 07G McKinney-Frisco-Prosper | 18/07/19, 07:32 pm | |
| 11 Girls Teams - U90C SUMMER SPLASH (Aug 16-18) | 18/07/19, 04:34 pm | |
| 12 Boys Teams - U90C SUMMER SPLASH (Aug 16-18) | 18/07/19, 04:30 pm | |
| 10 Boys Teams - SPORTS CAPITAL CLASSIC - AUSTIN (Aug 9-11) | 18/07/19, 04:28 pm | |
| Recruiting 04s to join my 03 classic league team | 18/07/19, 04:27 pm | |
| 12 Girls Teams - U90C SUMMER SPLASH (Aug 16-18) | 18/07/19, 04:22 pm | |
| Recruiting 09s for my outdoor soccer team | 18/07/19, 03:36 pm | |
| Still Looking to Sign - NTX Celtic FC 08G White Still Adding | 18/07/19, 02:27 pm | |
| '08 Mid-Cities United competitive Team looking for players | 18/07/19, 02:19 pm | |
| TX Spirit 06 Bewley OPEN PRACTICES | 18/07/19, 01:47 pm | |
| 2012 Boys - Plano American Academy of Soccer | 18/07/19, 12:45 pm | |
| Recruiting 08s for City Futsal Football Club (outdoor) | 18/07/19, 11:30 am | |
| City Futsal Football Club (outdoor) 03 | 18/07/19, 11:26 am | |
| Want to Scrimmage 7/20? | 18/07/19, 11:15 am | |
| FC Dallas Kits YM-Brand New-#5 and #4 | 18/07/19, 10:58 am | |
Be An Athletic Supporter!
Donate and get this nifty tag!
Statistics
We have
13585
registered users
The newest registered user is
StingSanchez
Our users have posted a total of
192784
messages in
27004
subjects

Here is an updated list.....if you have changes let me know.   If your team plans to try to qualify for Lake Highlands this summer let me know and I can create a new section for those teams.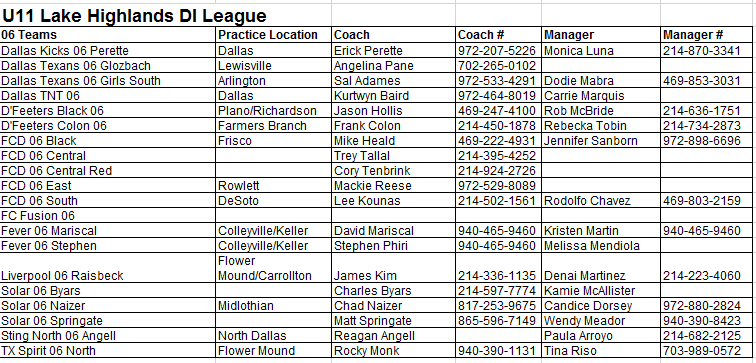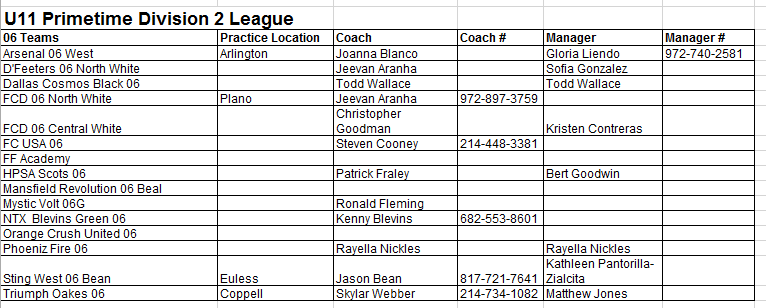 FBR06G

TxSoccer Postmaster





Posts

: 375


Points

: 2250


Join date

: 2015-02-27


Age

: 47



Link to Current LH Standings-

http://events.gotsport.com/events/results.aspx?EventID=54046&Gender=Girls&Age=11


Promotion/Relegation/Byes U11 : (Taken off LH Website)

Byes will be based on total points earned throughout the entire soccer year.

U11 DI = 20 Teams
1st thru 10th place earn a BYE and remain in DI
11th thru 18th place earn a BYE and form DII
19th and 20th place earn a BYE and move to DIII

U11 DIII = 10 Teams
1st and 2nd place earn a BYE and move to DII
3rd thru 6th place earn a BYE and remain in DIII
7th thru 10th place do not receive a BYE and must re-qualify
There will be 4 open spots for DIII in QT

FBR06G

TxSoccer Postmaster





Posts

: 375


Points

: 2250


Join date

: 2015-02-27


Age

: 47




---
Permissions in this forum:
You
cannot
reply to topics in this forum