Latest topics
| | | |
| --- | --- | --- |
| Real Colorado leaving Girls DA | 27/03/20, 07:39 pm | |
| YNT Mini-Camp | 27/03/20, 10:48 am | |
| U90C eSports Tournaments | 24/03/20, 07:19 pm | |
| United GoalkeepingUSA; WE CARE ABOUT YOUR HEALTH | 24/03/20, 05:58 am | |
| United GoalkeepingUSA,WE CARE ABOUT YOUR HEALTH!! | 24/03/20, 05:54 am | |
| TP Supplies | 19/03/20, 07:40 pm | |
| What Happened At The NTX Celtic Game? | 18/03/20, 01:52 pm | |
| Coronavirus Thread | 18/03/20, 10:08 am | |
| Remove the SPAM | 17/03/20, 08:06 pm | |
| Rayos 07 Martinez | 10/03/20, 11:29 pm | |
| Skills Training in Dallas TX | 10/03/20, 04:00 pm | |
| Skills Training in Richardson TX | 10/03/20, 03:58 pm | |
| Richardson TX Training Camps | 10/03/20, 03:52 pm | |
| FCD DA vs Solar DA '05 | 10/03/20, 01:22 pm | |
| Impact FC 06G Bertelsen/Roster Additions | 09/03/20, 06:49 pm | |
| Renegades 12G North - Blanton | 08/03/20, 10:23 pm | |
| Spring Break Camps Start Next Week! | 06/03/20, 05:02 pm | |
| A FREE Pick-Up Party Just For You (3/8/20) | 06/03/20, 04:58 pm | |
| 6v6 Soccer Leagues @ City Sports Park | 06/03/20, 04:53 pm | |
| 4v4 Soccer Leagues @ City Sports Park | 06/03/20, 04:50 pm | |
| Renegades 2010G Open Trainings | 06/03/20, 03:55 pm | |
| Renegades 2010G Open Trainings | 06/03/20, 03:55 pm | |
| Summer team changes | 05/03/20, 01:59 pm | |
| RISE8 FC 07 looking to add a few players to roster | 05/03/20, 10:34 am | |
| 06 GK Looking To Guest Play In Dallas Cup - April 5-12, 2020 | 04/03/20, 05:59 pm | |
Be An Athletic Supporter!
Donate and get this nifty tag!
Statistics
We have
14150
registered users
The newest registered user is
SoccerBasics
Our users have posted a total of
196158
messages in
27796
subjects

Here is an updated list.....if you have changes let me know.   If your team plans to try to qualify for Lake Highlands this summer let me know and I can create a new section for those teams.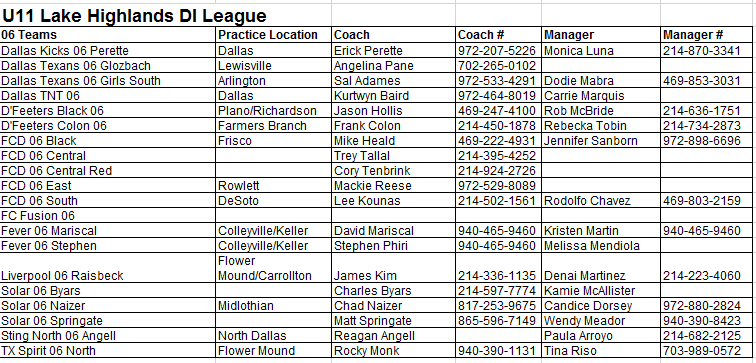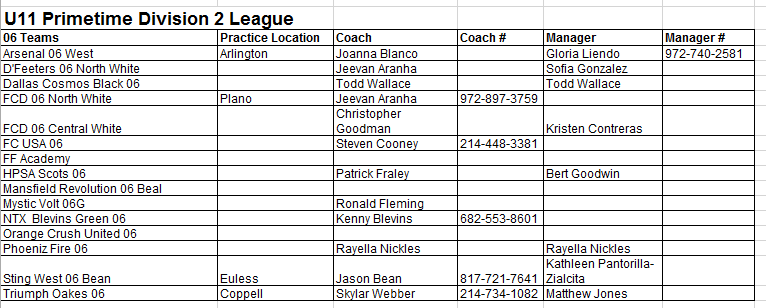 FBR06G

TxSoccer Postmaster





Posts

: 375


Points

: 2504


Join date

: 2015-02-27


Age

: 48



Link to Current LH Standings-

http://events.gotsport.com/events/results.aspx?EventID=54046&Gender=Girls&Age=11


Promotion/Relegation/Byes U11 : (Taken off LH Website)

Byes will be based on total points earned throughout the entire soccer year.

U11 DI = 20 Teams
1st thru 10th place earn a BYE and remain in DI
11th thru 18th place earn a BYE and form DII
19th and 20th place earn a BYE and move to DIII

U11 DIII = 10 Teams
1st and 2nd place earn a BYE and move to DII
3rd thru 6th place earn a BYE and remain in DIII
7th thru 10th place do not receive a BYE and must re-qualify
There will be 4 open spots for DIII in QT

FBR06G

TxSoccer Postmaster





Posts

: 375


Points

: 2504


Join date

: 2015-02-27


Age

: 48




---
Permissions in this forum:
You
cannot
reply to topics in this forum