Latest topics
| | | |
| --- | --- | --- |
| Real Colorado leaving Girls DA | 27/03/20, 07:39 pm | |
| YNT Mini-Camp | 27/03/20, 10:48 am | |
| U90C eSports Tournaments | 24/03/20, 07:19 pm | |
| United GoalkeepingUSA; WE CARE ABOUT YOUR HEALTH | 24/03/20, 05:58 am | |
| United GoalkeepingUSA,WE CARE ABOUT YOUR HEALTH!! | 24/03/20, 05:54 am | |
| TP Supplies | 19/03/20, 07:40 pm | |
| What Happened At The NTX Celtic Game? | 18/03/20, 01:52 pm | |
| Coronavirus Thread | 18/03/20, 10:08 am | |
| Remove the SPAM | 17/03/20, 08:06 pm | |
| Rayos 07 Martinez | 10/03/20, 11:29 pm | |
| Skills Training in Dallas TX | 10/03/20, 04:00 pm | |
| Skills Training in Richardson TX | 10/03/20, 03:58 pm | |
| Richardson TX Training Camps | 10/03/20, 03:52 pm | |
| FCD DA vs Solar DA '05 | 10/03/20, 01:22 pm | |
| Impact FC 06G Bertelsen/Roster Additions | 09/03/20, 06:49 pm | |
| Renegades 12G North - Blanton | 08/03/20, 10:23 pm | |
| Spring Break Camps Start Next Week! | 06/03/20, 05:02 pm | |
| A FREE Pick-Up Party Just For You (3/8/20) | 06/03/20, 04:58 pm | |
| 6v6 Soccer Leagues @ City Sports Park | 06/03/20, 04:53 pm | |
| 4v4 Soccer Leagues @ City Sports Park | 06/03/20, 04:50 pm | |
| Renegades 2010G Open Trainings | 06/03/20, 03:55 pm | |
| Renegades 2010G Open Trainings | 06/03/20, 03:55 pm | |
| Summer team changes | 05/03/20, 01:59 pm | |
| RISE8 FC 07 looking to add a few players to roster | 05/03/20, 10:34 am | |
| 06 GK Looking To Guest Play In Dallas Cup - April 5-12, 2020 | 04/03/20, 05:59 pm | |
Be An Athletic Supporter!
Donate and get this nifty tag!
Statistics
We have
14150
registered users
The newest registered user is
SoccerBasics
Our users have posted a total of
196158
messages in
27796
subjects

Ok Team Managers and Coaches....find my mistakes and let me know so I can correct them.   Yellow highlights are for the changes since last post.    If you plan to qualify for LH let me know I created a column on left of spreadsheet for that.   Once LH games are over I will seperate it into D! D2 and D3 sections.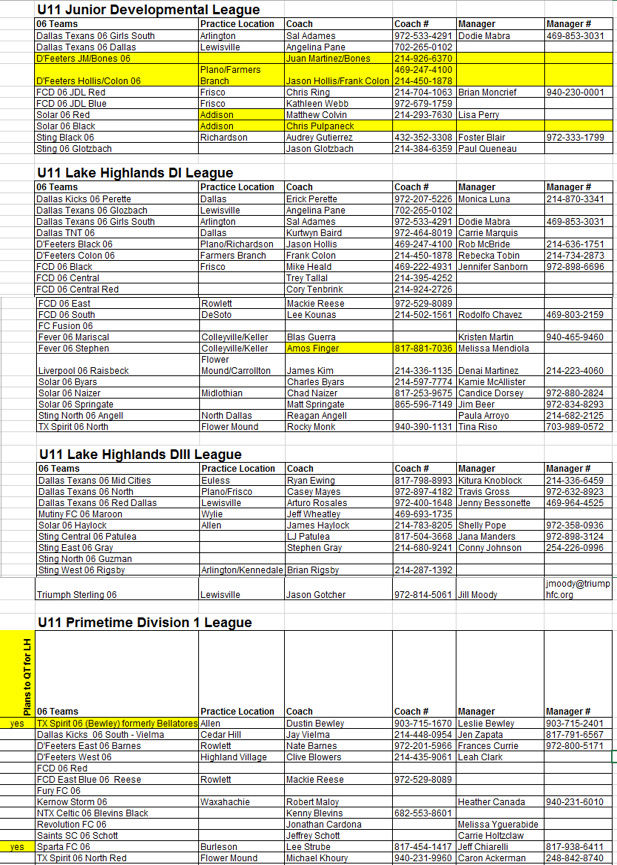 FBR06G

TxSoccer Postmaster





Posts

: 375


Points

: 2504


Join date

: 2015-02-27


Age

: 48



Next round update will include



D'Feeters West 06 is now Solar 06G Blowers

Manager is Lindsey Mattingly, phone 817-800-3521


FBR06G

TxSoccer Postmaster





Posts

: 375


Points

: 2504


Join date

: 2015-02-27


Age

: 48




---
Permissions in this forum:
You
cannot
reply to topics in this forum