Latest topics
| | | |
| --- | --- | --- |
| Frisco Fusion 09/10 Boys - Spring 2019! | Today at 12:35 pm | |
| Frisco Fusion 09/10 Boys - Spring 2019! | Today at 12:35 pm | |
| Solar 09G Angelone-Colvin Open practices | Today at 11:21 am | |
| 07 DA | Today at 4:22 am | |
| Winter Cup 2019 The Colony 23rd- 27th January | Yesterday at 6:10 pm | |
| Will a NTX HS team win State? | Yesterday at 5:17 pm | |
| TOURNAMENT: U90C SPRING KICKOFF - Jan. 31-Feb. 3, 2019 | Yesterday at 4:08 pm | |
| 08G Players Needed Lantana, Flower Mound Lewisville Denton | Yesterday at 12:06 pm | |
| Renegades 2012G Centrally Located | Yesterday at 11:10 am | |
| Sting Dallas 10G Saldivar transition to 9v9 | Yesterday at 11:08 am | |
| Renegades Soccer Club 2009G | Yesterday at 11:06 am | |
| Dallas Texans Scarfone 10G welcomes...(are you interested?) | Sat Jan 19, 2019 9:20 pm | |
| Solar 10G | Sat Jan 19, 2019 7:16 pm | |
| 13 Boys Teams - U90C Spring Kickoff (Jan. 31-Feb. 3, 2019) | Sat Jan 19, 2019 5:30 pm | |
| 10 Girls Teams - U90C Spring Kickoff (Jan. 31-Feb. 3, 2019) | Sat Jan 19, 2019 5:28 pm | |
| Dallas Texans 09G Moreno adding players | Sat Jan 19, 2019 2:30 pm | |
| 11 Girls Teams - U90C Spring Kickoff (Jan. 31-Feb. 3, 2019) | Sat Jan 19, 2019 12:53 pm | |
| 05 Girls Teams - U90C Spring Kickoff (Jan. 31-Feb. 3, 2019) | Sat Jan 19, 2019 12:52 pm | |
| 09 Girls Teams - U90C Spring Kickoff (Jan. 31-Feb. 3, 2019) | Sat Jan 19, 2019 12:47 pm | |
| 09 Boys Teams - U90C Spring Kickoff (Jan. 31-Feb. 3, 2019) | Sat Jan 19, 2019 12:45 pm | |
| 06 Boys Teams - U90C Spring Kickoff (Jan. 31-Feb. 3, 2019) | Sat Jan 19, 2019 12:44 pm | |
| 08 Boys Teams - U90C Spring Kickoff (Jan. 31-Feb. 3, 2019) | Sat Jan 19, 2019 12:44 pm | |
| D'Feeters 09G Voutier: Looking for A Goal Keeper | Sat Jan 19, 2019 11:21 am | |
| Sting Academy Uniform for Sale | Sat Jan 19, 2019 1:08 am | |
| Sting Academy Kit for Sale | Sat Jan 19, 2019 1:06 am | |
Be An Athletic Supporter!
Donate and get this nifty tag!
Statistics
We have
12828
registered users
The newest registered user is
Prinmarie
Our users have posted a total of
184720
messages in
24723
subjects

Over the course of the three-day clinic, our coaching staff will cover the techniques required to properly pass, dribble, shoot and receive a ball on the ground or out of the air. Campers will learn how to apply these techniques into open play through restricted games that promote problem-solving. Repetition in 1v1, 2v1, and 3v2 situations leading into our small-sided tournament on the last day bring everything full circle and gives a taste of the full Footy Factory experience.
REGISTER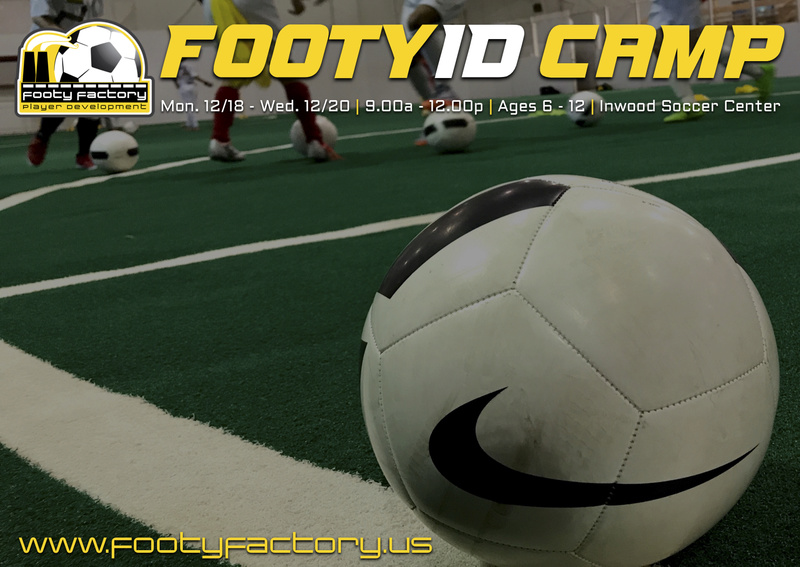 Already 22 players signed up, get registered today before the camp fills up!
26 players registered thus far with ages ranging from 5-12. The groups will be split so that campers are working with players their own age. It's going to be a lot of fun, come join us!
Camp is 10 days away with 31 players registered already. Only 9 spots remaining, get signed up today!
35 players registered. 5 SPOTS REMAINING. Come join us!
Early registration is now closed.

Late registration will remain open until the start of the camp on Monday morning.

If you are unavailable for any of the three days, you can also register for a single day.

Hope to see you there!

---
Permissions in this forum:
You
cannot
reply to topics in this forum