Latest topics
| | | |
| --- | --- | --- |
| Kick It 3v3 Soccer-3v3 Fever-Jan 5, 2019 | Today at 02:28 am | |
| TOURNAMENT: VETERAN HEROES CUP - Nov 9-11, 2018 | Yesterday at 11:10 pm | |
| Here were go again - Games Cancellation | Yesterday at 10:16 pm | |
| Looking for 2010 team to play | Yesterday at 02:39 pm | |
| Question about coaching at U10 | Yesterday at 12:37 pm | |
| D'Feeters 10G Colon/Abouzar looking to add players! | 19/10/18, 10:21 pm | |
| Moving to DFW - need advice | 19/10/18, 09:59 pm | |
| TOURNAMENT: College Showcase & Combine Nov 16-18 | 19/10/18, 06:47 pm | |
| is the High School level for girls just as bad as the boys? | 19/10/18, 06:13 pm | |
| Blue Sky Winter Indoor Soccer Leagues | 19/10/18, 05:42 pm | |
| DALLAS TEXANS FALL FESTIVAL 2018 | 19/10/18, 03:52 pm | |
| How to find a team for winter?! | 19/10/18, 02:52 pm | |
| 10 Girls Teams - Veteran Heroes Cup (Nov. 9-11) | 19/10/18, 01:11 pm | |
| 09 Boys Teams - Veteran Heroes Cup (Nov. 9-11) | 19/10/18, 01:09 pm | |
| 10 Girls Teams - LEAGUE CHALLENGE CUP (Nov. 16-18) | 19/10/18, 01:07 pm | |
| FC Frisco Storm 03G looking for defender | 19/10/18, 11:39 am | |
| FC Frisco Storm 03G looking for defender | 19/10/18, 11:38 am | |
| FC Frisco Storm 03G looking for defender | 19/10/18, 11:34 am | |
| Adding 1-2 Players | 19/10/18, 09:37 am | |
| 08 Boys Teams - Veteran Heroes Cup (Nov. 9-11) | 18/10/18, 06:02 pm | |
| 12 Girls Teams - Veteran Heroes Cup (Nov. 9-11) | 18/10/18, 06:01 pm | |
| 08 Girls Teams - Veteran Heroes Cup (Nov. 9-11) | 18/10/18, 05:58 pm | |
| 09 Girls Teams - Veteran Heroes Cup (Nov. 9-11) | 18/10/18, 05:57 pm | |
| 10 Boys Teams - Veteran Heroes Cup (Nov. 9-11) | 18/10/18, 05:52 pm | |
| 04 Boys Teams - Veteran Heroes Cup (Nov. 9-11) | 18/10/18, 05:46 pm | |
Be An Athletic Supporter!
Donate and get this nifty tag!
Statistics
We have
12702
registered users
The newest registered user is
Chauffeur
Our users have posted a total of
182830
messages in
24295
subjects


SoccerisGreat

TxSoccer Postmaster





Posts

: 126


Points

: 1403


Join date

: 2015-06-16



5A STATE CHAMPIONSHIP. Wakeland vs Grapevine. Two teams that played like the champions they are. Tied 1-1 after regulation. Tied 2-2 after OT1; tied 3-3 after OT2. Wakeland makes all 5 PKs. Grapevine makes their first 4.
This photo captures the joy (Wakeland side) of blocking Grapevine's 5th PK attempt - earning Wakeland the 5A State Title.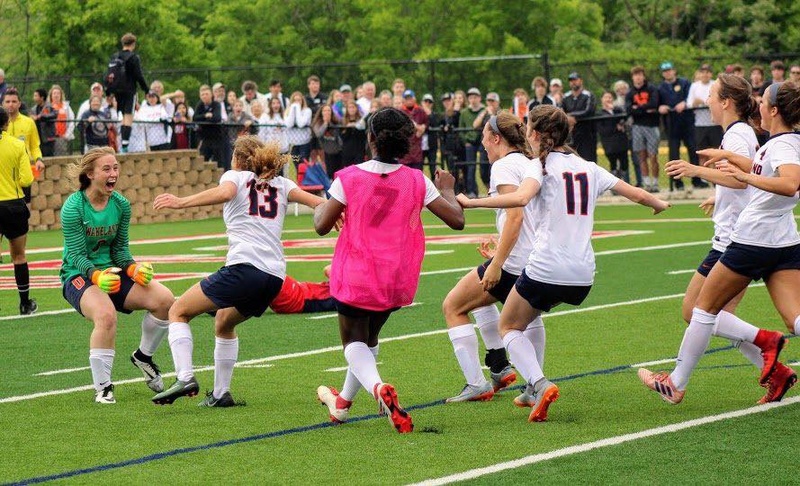 Last edited by SoccerisGreat on 15/05/18, 09:18 am; edited 1 time in total

SoccerisGreat

TxSoccer Postmaster





Posts

: 126


Points

: 1403


Join date

: 2015-06-16




SoccerisGreat

TxSoccer Postmaster





Posts

: 126


Points

: 1403


Join date

: 2015-06-16




SoccerisGreat

TxSoccer Postmaster





Posts

: 126


Points

: 1403


Join date

: 2015-06-16




---
Permissions in this forum:
You
cannot
reply to topics in this forum