Latest topics
| | | |
| --- | --- | --- |
| 2019-2020 DA and ECNL Teams | Today at 02:00 pm | |
| FC Dallas 05B (coach Chris Che) looking for 05 players | Today at 10:02 am | |
| Junior Lake Highlands | Yesterday at 01:52 pm | |
| Manchester SC 07G Open Sessions | Yesterday at 01:51 pm | |
| DKSC 06G - Aranha | 17/09/19, 03:33 pm | |
| Sting Austin | 16/09/19, 10:37 pm | |
| McKinney United 07G Open Spots Available | 16/09/19, 09:51 pm | |
| McKinney United 07G Open Spots Available | 16/09/19, 09:50 pm | |
| Classic League Div 1 Week 2 Predictions | 16/09/19, 05:20 pm | |
| FREE TRAINING SESSION FOR 2011 GIRLS - FRIDAY, SEP 20 | 16/09/19, 01:25 pm | |
| FREE TRAINING SESSION FOR 2010 GIRLS - FRIDAY, SEP 20 | 16/09/19, 01:23 pm | |
| 07 DA 2019 | 16/09/19, 11:15 am | |
| FCDY 09G West | 16/09/19, 09:22 am | |
| FCDY 08G West | 16/09/19, 09:21 am | |
| FC Dallas 12B West (Kang and Willett) | 16/09/19, 09:19 am | |
| FC Dallas 11B West | 16/09/19, 09:17 am | |
| Dallas Texans 2013G Mochel | 16/09/19, 08:08 am | |
| 03B Classic League | 15/09/19, 06:45 pm | |
| U.S. U20 MNT heads to Slovenia for games vs Croatia and UAE | 15/09/19, 12:21 am | |
| Renegades 2010G North - Blanton | 14/09/19, 09:00 am | |
| U17 MNT heads to 4 nations tournament in Netherlands | 13/09/19, 09:23 pm | |
| ODP 2019 Closed for Comments Due to Same Generic Useless Info and Trolls | 13/09/19, 11:57 am | |
| National Rankings | 13/09/19, 10:32 am | |
| Game Day 04 CLASSIC LEAGUE 2018-19 | 13/09/19, 09:22 am | |
| LHGCL Div 1 team looking for a 03/02 Keeper | 12/09/19, 09:14 pm | |
Be An Athletic Supporter!
Donate and get this nifty tag!
Statistics
We have
13582
registered users
The newest registered user is
Kedrick
Our users have posted a total of
194240
messages in
27268
subjects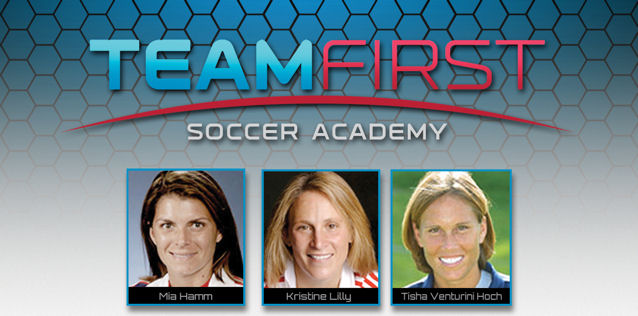 Mia Hamm, Kristine Lilly, Tisha Venturini-Hoch
Combined they have 5 Olympic gold medals, 5 World Cup Championships, 12 NCAA Titles.
We invite you to train with TeamFirst Soccer Academy's world-class instructors Mia Hamm,
Kristine Lilly and Tisha Venturini-Hoch. This 3-day camp will provide an opportunity to
develop as an individual player within a disciplined and unselfish team environment.
Mia, Kristine and Tisha will coach all age groups and sessions, all 3 days.
Open to all players, of any skill level and regardless of team or club affiliation.
June 11-13, 2011
Blue Sky Sports Center, The Colony
For more info, or to register, visit
Liverpool FC America or the Team First Event Page

clinicannounce

TxSoccer Lurker





Posts

: 8


Points

: 3264


Join date

: 2010-11-05



This was an awesome experience for my 6 year old DD! She now wants to beat Mia Hamm's record!

Shekicks04

TxSoccer Poster





Posts

: 92


Points

: 3421


Join date

: 2010-09-12




---
Permissions in this forum:
You
cannot
reply to topics in this forum