Latest topics
| | | |
| --- | --- | --- |
| Solar West 2014G | 24/09/22, 05:14 pm | |
| USMMA looking for interested Women | 24/09/22, 02:22 pm | |
| Renegades 14/15B Blanton | 21/09/22, 01:19 pm | |
| Renegades 2014G Blanton | 21/09/22, 11:44 am | |
| TOURNAMENT: VETERAN HEROES CUP - Nov 11-13, 2022 | 20/09/22, 10:18 am | |
| TOURNAMENT: U90C LEAGUE CHALLENGE CUP - Nov. 18-20 | 20/09/22, 10:17 am | |
| TOURNAMENT: U90C UPPER 90 CHALLENGE - Dec. 2-4 | 20/09/22, 10:10 am | |
| Home School Soccer | 15/09/22, 11:19 am | |
| Cross City SC 2014 (Allen, TX) | 07/09/22, 04:34 pm | |
| BALL KIDS NEEDED FOR UNT SOCCER! | 07/09/22, 09:28 am | |
| Plano Labor Day Tournament thoughts | 06/09/22, 10:22 pm | |
| BVB 06G Premier (F:LFC Raisbeck) LH D1 and NPL | 03/09/22, 06:32 pm | |
| 2014-2017 Boys welcome * Dallas Texans | 01/09/22, 11:02 am | |
| Dallas Texans Academy 2016G | 01/09/22, 10:53 am | |
| Guest players needed | 29/08/22, 11:30 pm | |
| Olympians 14B - Open Practices (North FTW-Keller area) | 26/08/22, 09:29 am | |
| Dallas Texans Arechiga | 24/08/22, 07:44 pm | |
| FCP Dynamos – 2010 Boys (Prosper) - Need 1 Player | 23/08/22, 05:07 pm | |
| Legacy United 09G | 21/08/22, 09:26 pm | |
| Soccer team | 18/08/22, 01:13 pm | |
| BVB 2015/2016/2017 BOYS | 18/08/22, 10:24 am | |
| BVB 2015 / 2016 / 2017 G SEDEH | 18/08/22, 10:07 am | |
| 2015/2016 boys looking for practice scrimmage | 13/08/22, 04:56 pm | |
| Saints 07B is still looking for 2-3 more players | 12/08/22, 08:24 pm | |
| Searching for a team | 12/08/22, 12:08 pm | |
Be An Athletic Supporter!
Donate and get this nifty tag!
Statistics
We have
15340
registered users
The newest registered user is
swec0602
Our users have posted a total of
204627
messages in
31530
subjects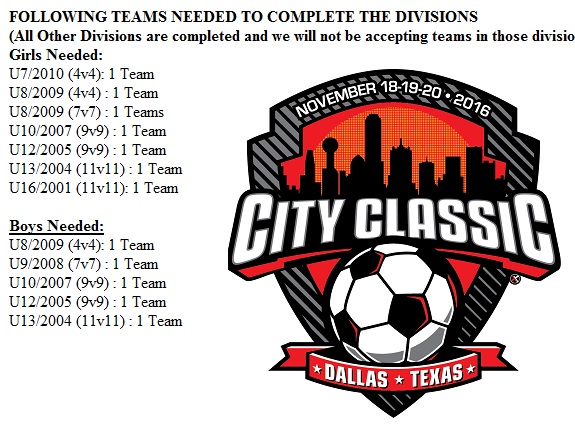 Go to WWW.DFWDA.COM to register
Text 404-713-5043 to save that spot. Once the spot is taken we will accept no more applications as we get the schedules out in 5 days.
Thanks

__________________________________________________
Warren van der Westhuizen
Coppell Development Academy
Executive Director
doc.coppellda@gmail.com
404-713-5043
[www.coppellda.com
---
Permissions in this forum:
You
cannot
reply to topics in this forum