Latest topics
| | | |
| --- | --- | --- |
| Solar 14' Rodriguez | 19/09/23, 09:34 pm | |
| TOURNAMENT: VETERAN HEROES CUP - Nov 10-12, 2023 | 13/09/23, 01:32 pm | |
| TOURNAMENT: U90C LEAGUE CHALLENGE CUP - Nov. 17-19 | 13/09/23, 01:27 pm | |
| TOURNAMENT: U90C UPPER 90 CHALLENGE - Dec. 1-3 | 13/09/23, 01:18 pm | |
| Renegades 13G North | 05/09/23, 04:01 pm | |
| Goalkeeper Wanted! 2007G Dallas Texans Soccer Team! | 05/09/23, 09:13 am | |
| Dallas Texans Jim Sendejas (2014,2015,2016,2017's) | 31/08/23, 09:01 am | |
| Goalkeeper Dallas Texans Central Red 09B Dixon | 29/08/23, 10:42 am | |
| ELITE SOCCER TRAINING - ALL AGES | 29/08/23, 09:19 am | |
| Dallas Texans 2017/18G Saldivar | 23/08/23, 11:21 pm | |
| EVOLUTION 14G MCGREGOR/GRAPEVINE/SOUTHLAKE/COLLEYVILLE | 14/08/23, 12:23 pm | |
| '03 Division Outlook | 13/08/23, 03:46 am | |
| Homeschool Soccer teams | 03/08/23, 10:20 pm | |
| Homeschool Soccer teams | 03/08/23, 10:14 pm | |
| Homeschool Soccer Teams | 03/08/23, 10:05 pm | |
| Homeschool Soccer teams | 03/08/23, 09:55 pm | |
| Homeschool Soccer teams | 03/08/23, 09:49 pm | |
| Homeschool Soccer Teams | 03/08/23, 09:42 pm | |
| Homeschool Soccer Teams | 03/08/23, 09:35 pm | |
| Homeschool Soccer Team | 03/08/23, 09:27 pm | |
| Homeschool Soccer Team | 03/08/23, 09:20 pm | |
| Homeschool Soccer Team | 03/08/23, 09:13 pm | |
| Homeschool Soccer Team | 03/08/23, 09:05 pm | |
| Homeschool Soccer Team | 03/08/23, 08:55 pm | |
| Homeschool Soccer Team | 03/08/23, 08:47 pm | |
Be An Athletic Supporter!
Donate and get this nifty tag!
Statistics
We have
15629
registered users
The newest registered user is
harry potter
Our users have posted a total of
205131
messages in
31927
subjects
Soccer Madness 4v4
https://events.gotsport.com/forms/app/Default.aspx?eventid=58885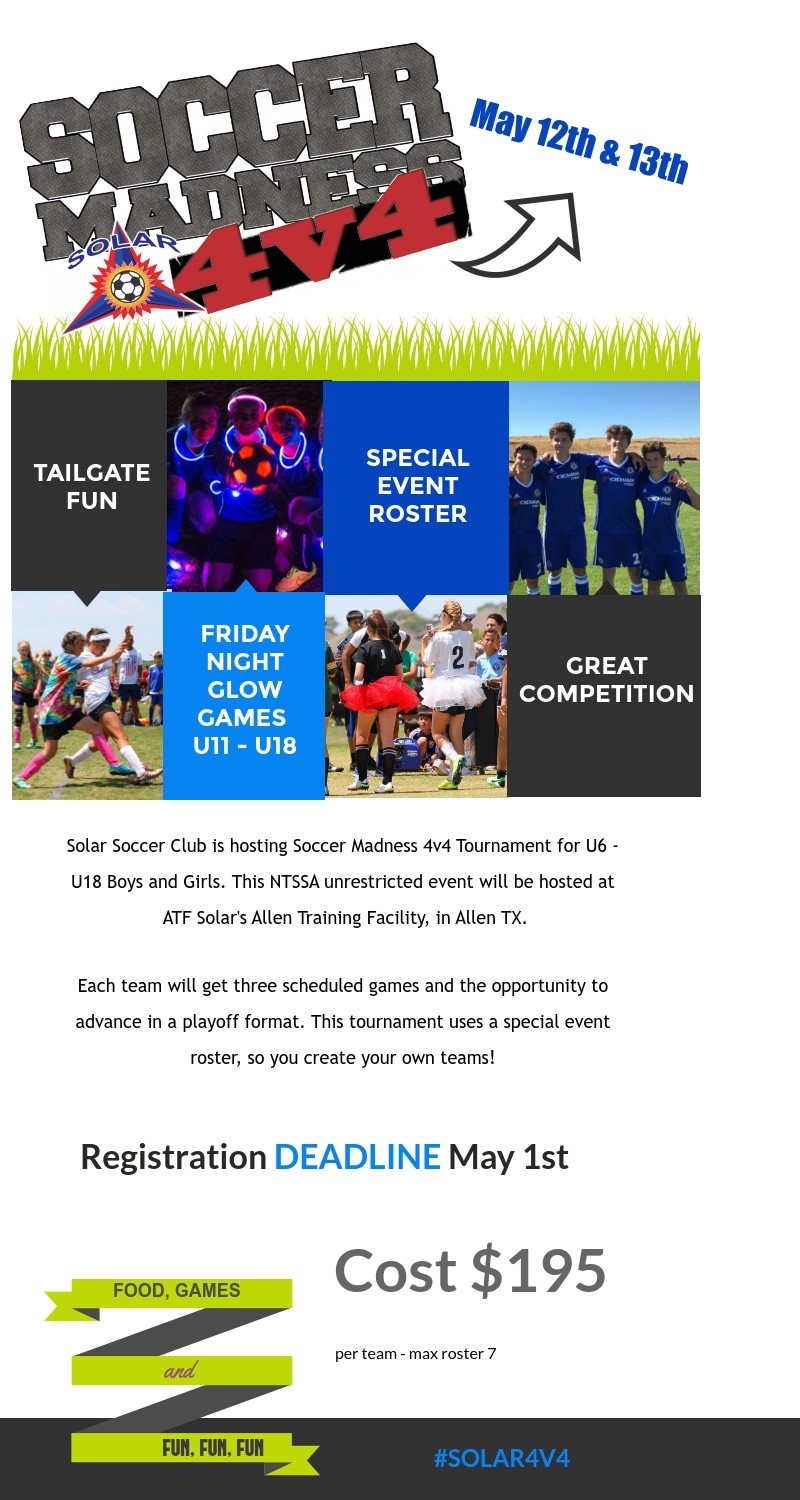 May 12th is a Friday. Double checking to see if these dates correct

NTXSoccaDad

TxSoccer Poster





Posts

: 73


Points

: 2499


Join date

: 2017-02-16



Yes those dates are correct - we are opening Friday Night to U11- U18 for Glow in the Dark fun!
Oh that sounds very cool!

NTXSoccaDad

TxSoccer Poster





Posts

: 73


Points

: 2499


Join date

: 2017-02-16



Registration Deadline is Monday May 1st

Did this deadline get extended?

Let'sJustAllGoRec

TxSoccer Postmaster





Posts

: 160


Points

: 3751


Join date

: 2014-01-26



No, But we have waited to start the schedule until after round one of State Cup - we are accepting teams through tomorrow only if it rounds off the bracket
Couple of postmortem thoughts on this tournament.

We had a daughter participate in this last weekend and the glow in the dark Friday was an embarrassing fail for Solar. It left you wondering if anyone tried or if the club has any money to try and if was just held to collect everyone's checks.

Saturday was better but to whatever club / team had the good game i hate you good game t-shirts, I hope there are enough sane, responsible parents that will leave and find better clubs that you will have to fold up and all the girls there can find better role models and leadership at some other club. What a terrible message and poor example to set for those young ladies.

SoccerDad75070

TxSoccer Poster





Posts

: 51


Points

: 2786


Join date

: 2016-04-12



I had three teams out there and they loved it. It was Soccerpalooza with so many games going on at the same time. Teams had their creative uniforms out there. I saw tutus, minions and all sorts of crazy kids expressing themselves. I saw a shade tent city spring up overnight with grills and people just hanging out. I saw kids playing on the inflatable obstacle course and slides. People eating BBQ from food trucks and overall a great atmosphere. I thought Solar did a good job.

CBTeamworks

TxSoccer Postmaster





Posts

: 361


Points

: 4097


Join date

: 2013-08-12



Soccerdad, kinda sounds like you are just looking for something to complain about. This was meant to be a fun tournament, and it was. The glow thing didn't work, but they quickly realized that and turned the lights on. A fail would have been if they sent everyone home.

Re: the shirts, lighten up a little. My DD wasn't on that team but I thought they were kind of funny. Again, just meant to be fun. Don't take it so personally.

ColtMcVince

TxSoccer Postmaster





Posts

: 171


Points

: 3957


Join date

: 2013-05-13



We had a 9:30 game.  Was a little disappointed myself that the glow thing did not work out.  I was not aware that they tried and realized they needed the lights.  
On a positive note the glow in the dark shoelaces worked in the car when we were driving home.

Dodgeball Goalie

TxSoccer Lurker





Posts

: 3


Points

: 2583


Join date

: 2016-08-29



---
Permissions in this forum:
You
cannot
reply to topics in this forum