Latest topics
| | | |
| --- | --- | --- |
| The Other Side | 23/03/23, 05:04 pm | |
| Dallas Surf East 2016s in Plano, Wylie, Sachse, & Murphy | 19/03/23, 08:21 pm | |
| Dallas Surf East 2015s in Plano, Wylie, Sachse, & Murphy | 19/03/23, 08:16 pm | |
| Gio Reyna's Mom Outs Berhalter to USSF | 10/03/23, 03:02 am | |
| Dallas Texans 15B Saldivar | 07/03/23, 07:21 pm | |
| Dallas Texans Academy 2015G | 07/03/23, 07:14 pm | |
| Looking for players | 28/02/23, 07:44 am | |
| Solar Hopkins 13G North Looking for a GK | 27/02/23, 08:45 am | |
| UT Longhorns Elite Camp for 11 year olds | 23/02/23, 05:27 pm | |
| Sleepless in Seattle | 21/02/23, 11:07 pm | |
| Cross City SC 12/13G (Allen, TX) | 21/02/23, 10:58 am | |
| Cross City SC 12/13G (Allen, TX) | 21/02/23, 10:51 am | |
| Solar 2014G Moreno/Rodriguez | 21/02/23, 10:50 am | |
| Cross City SC 15G | 21/02/23, 10:43 am | |
| Cross City SC 15B | 21/02/23, 10:34 am | |
| Cross City SC 07B (Allen, TX) | 20/02/23, 03:03 pm | |
| Cross City SC 05B Classic D1 (Allen, TX) | 20/02/23, 02:57 pm | |
| Cross City SC 09B Classic D1 (Allen, TX) | 20/02/23, 02:50 pm | |
| Cross City SC 11B/12B (Allen, TX) | 20/02/23, 02:41 pm | |
| Cross City SC 10B (Allen, TX) Classic Challenge Summer 23 | 20/02/23, 02:32 pm | |
| TEXAS STATE CUP - US CLUB SOCCER - April 20-23, 2023 | 15/02/23, 01:10 pm | |
| 2023 U90C SPORTS EVENT CALENDAR | 15/02/23, 01:09 pm | |
| StrikerZ DFW Youth Girls Teams | 14/02/23, 10:53 pm | |
| ISO Adult Medium BVB Kits | 09/02/23, 05:42 am | |
| Update: StrikerZ DFW Girls Tryouts | 04/02/23, 01:55 pm | |
Be An Athletic Supporter!
Donate and get this nifty tag!
Statistics
We have
15394
registered users
The newest registered user is
asanch
Our users have posted a total of
204719
messages in
31584
subjects
As we get closer to SUNDAY MARCH 19th, we wanted to give you a few quick updates from the
previous post
.
First, we are
very close to hitting
1000 tickets
and Prestonwood has a limited seating capacity.
Next, starting Monday, March 6th, presale tickets will go up from
$15 to $18
-- so if you haven't got your tickets, but were planning to, please don't wait until after this weekend.  You can go straight HERE to get tickets and/or FCD Women spirit shirt.  And of course, will go up to $20 at the Gate the day of the event.
Finally, we have worked out an opportunity for the Houston Dash players (Morgan Brian, Kealia Ohai, Melissa Henderson, Caity Heap, Lydia Williams, Cami Privett, etc.) having an autograph session following the end of their match.  This will only last about 30 minutes or so and only available to those fans that are at the game.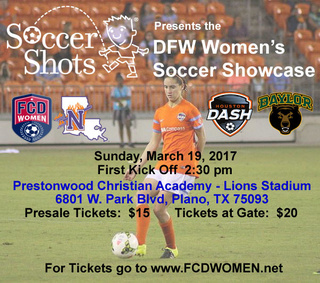 ---
Permissions in this forum:
You
cannot
reply to topics in this forum