Latest topics
| | | |
| --- | --- | --- |
| GAMBIT TOURNAMENT: Gambit Winter Cup Dec 11-13 | Today at 04:48 pm | |
| RPL SPRING 2021 (ACADEMY + 2009 11v11 Divisions) Reg. OPEN | Today at 03:01 pm | |
| Renegades 12G North - Blanton | Today at 11:07 am | |
| Renegades 11G North - Blanton | Today at 10:57 am | |
| Edinson Cavani Will Be Suspend Three Games For His Improper | Today at 12:58 am | |
| 09G Keeper in need of new team | Yesterday at 09:53 pm | |
| 08G Keeper needing new team | Yesterday at 09:48 pm | |
| Top '07 NTX Boys Teams | Yesterday at 12:22 pm | |
| ECNL-ECRL 08 | Yesterday at 10:46 am | |
| Club America 2011B palomeque OPEN Tryouts | Yesterday at 09:27 am | |
| TOURNAMENT: U90C ROUND ROCK OPEN - AUSTIN - Dec. 11-13 | 29/11/20, 10:41 am | |
| DKSC 06G Aranha (Plano, TX 75074) | 28/11/20, 11:09 am | |
| Tournament Guest Play: Nov & Dec | 26/11/20, 07:35 pm | |
| High School Soccer Girls 2020-21 | 26/11/20, 05:19 pm | |
| ECNL 04 Girls - Phoenix Fall Showcase | 24/11/20, 10:54 pm | |
| ECNL 04 Girls Week 11 | 24/11/20, 10:42 pm | |
| DKSC '11G Evans - Farmers Branch, Carrollton, Dallas, Irving | 24/11/20, 11:48 am | |
| Renegades 2011 G Vaughn-Frisco/Mckinney/Plano/Allen area | 24/11/20, 09:24 am | |
| Renegades 2011G team forming 2020/2021 | 23/11/20, 12:11 pm | |
| TOURNAMENT: U90C UPPER 90 CHALLENGE - Dec. 4-6 | 22/11/20, 10:28 am | |
| TOURNAMENT: U90C HILL COUNTRY CLASSIC - AUSTIN - Jan. 24-26 | 20/11/20, 03:47 pm | |
| TOURNAMENT: U90C SPRING KICKOFF - Feb 4-7, 2021 | 20/11/20, 03:46 pm | |
| Dallas Roma 09 Beta looking for some new players | 18/11/20, 08:55 pm | |
| Dallas Roma FC 09 Classic League Caoach Patrick Shamu | 18/11/20, 08:49 pm | |
| Dallas Roma FC 10 Boys looking for Gk and some field players | 18/11/20, 08:43 pm | |
Be An Athletic Supporter!
Donate and get this nifty tag!
Statistics
We have
14544
registered users
The newest registered user is
jpbiv4
Our users have posted a total of
200595
messages in
29524
subjects
North Texas, Oklahoma and South Texas G04 Youth Soccer Rankings - April 1st, 2017
These are the North Texas, Oklahoma and South Texas Girls 2004 Birth Year rankings as calculated by Excel Solver using a best fit algorithm to match up team strength ratings with actual tournament and league play results.   Rankings for the teams that have a higher sample size are starting to get stable. Teams move up in the rankings by beating a team by more than predicted (by Solver) or losing by less than expected. Teams with smaller sample sizes of games can also move up or down based off of the strength of schedule of teams they have played in the past improving.
NTX, OK and STX Girls 2004 Soccer Rankings (as of April 1st, 2017):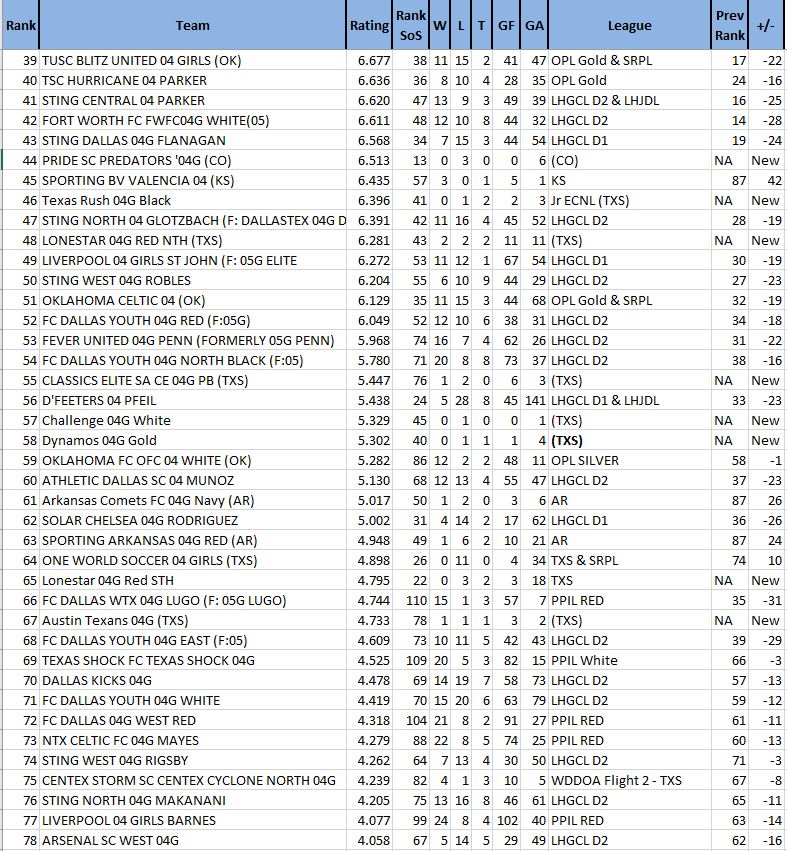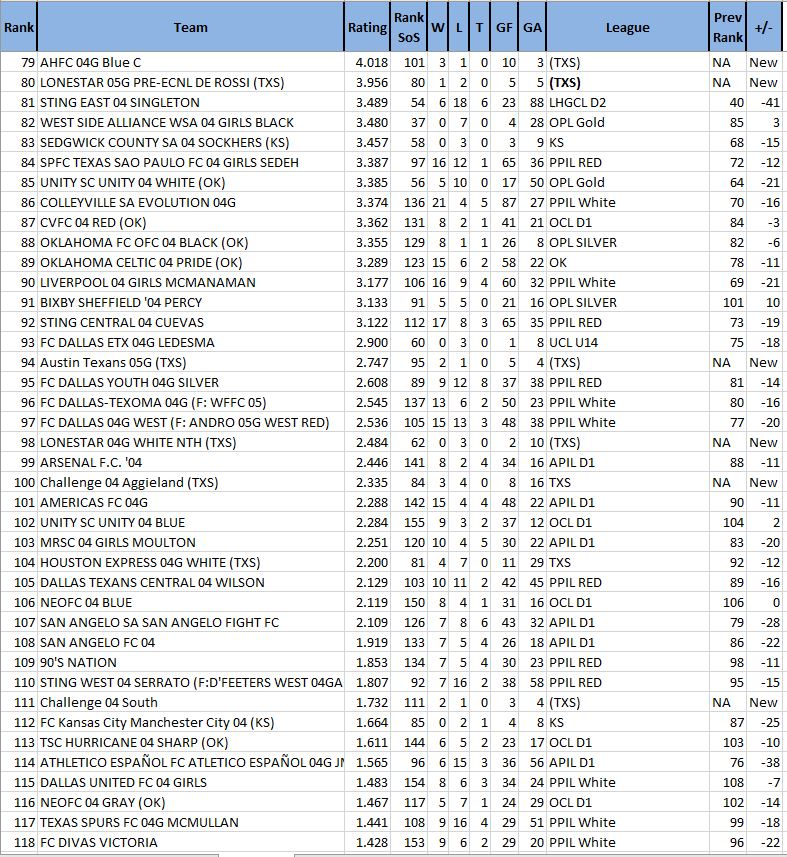 This is the current list of sources for scores:
2016 King Tut presented by Toyota
LHGCL Qualifying Tournament
Texas Summer Classic
Dallas International Soccer Festival
2016 PreSeason Challenge
Premier Cup 2016
Beat the Heat (Edmond, OK)
36th Annual Bob Wiseman Memorial
Primetime Girls U14 2003 (11v11)
Junior Development League - LHJDL
LHGCL D1 League Play
LHGCL D2 League Play
Plano Premier Invitiational League Red - PPIL RED
Plano Premier Invitiational League White - PPIL WHITE
Arlington Premier Invitiational League D1 - APIL D1
Oklahoma Premier League Gold - OPL Gold
Oklahoma Premier League Silver - OPL Silver
Oklahoma Competitive League D1 - OCL D1
Oklahoma Competitive League D2 - OCL D2
SLSC COSMOS CUP
2016 Girls Austin Labor Day Cup (ALDC)
2016 Fall Red Earth Invitational
2016 Blitz United Fall Invitational
Tulsa Jr ECNL Event
OSC Classic Cup 2016
7th Annual NTX Celtic FC Fall Challenge
2016 DTSC Fall Festival
Texas Cup 2016
Adidas Sam Shannon Showcase/Tulsa Friendship Cup 2016
Upper 90 Challenge
Houston JR ECNL EVENT
Michael Brown Winter Classic XVI
2017 Vegas Cup MLK Weekend
Houston Express NRG Power Cup 2017
Spring Roundup 2017
"
2017 North Texas Soccer Presidents Cup"
Spring 2017 - SRPL - WEST (OK, NTX, STX)

CrazySoccerParent

TxSoccer Postmaster





Posts

: 203


Points

: 1780


Join date

: 2016-08-15



The April 10th Rankings are still solving, Excel Solver has been running for over 2 hours... We are up to almost 1600 games so lots of number crunching... I will post them sometime today!

CrazySoccerParent

TxSoccer Postmaster





Posts

: 203


Points

: 1780


Join date

: 2016-08-15



---
Permissions in this forum:
You
cannot
reply to topics in this forum