Latest topics
| | | |
| --- | --- | --- |
| Solar 14' Rodriguez | 19/09/23, 09:34 pm | |
| TOURNAMENT: VETERAN HEROES CUP - Nov 10-12, 2023 | 13/09/23, 01:32 pm | |
| TOURNAMENT: U90C LEAGUE CHALLENGE CUP - Nov. 17-19 | 13/09/23, 01:27 pm | |
| TOURNAMENT: U90C UPPER 90 CHALLENGE - Dec. 1-3 | 13/09/23, 01:18 pm | |
| Renegades 13G North | 05/09/23, 04:01 pm | |
| Goalkeeper Wanted! 2007G Dallas Texans Soccer Team! | 05/09/23, 09:13 am | |
| Dallas Texans Jim Sendejas (2014,2015,2016,2017's) | 31/08/23, 09:01 am | |
| Goalkeeper Dallas Texans Central Red 09B Dixon | 29/08/23, 10:42 am | |
| ELITE SOCCER TRAINING - ALL AGES | 29/08/23, 09:19 am | |
| Dallas Texans 2017/18G Saldivar | 23/08/23, 11:21 pm | |
| EVOLUTION 14G MCGREGOR/GRAPEVINE/SOUTHLAKE/COLLEYVILLE | 14/08/23, 12:23 pm | |
| '03 Division Outlook | 13/08/23, 03:46 am | |
| Homeschool Soccer teams | 03/08/23, 10:20 pm | |
| Homeschool Soccer teams | 03/08/23, 10:14 pm | |
| Homeschool Soccer Teams | 03/08/23, 10:05 pm | |
| Homeschool Soccer teams | 03/08/23, 09:55 pm | |
| Homeschool Soccer teams | 03/08/23, 09:49 pm | |
| Homeschool Soccer Teams | 03/08/23, 09:42 pm | |
| Homeschool Soccer Teams | 03/08/23, 09:35 pm | |
| Homeschool Soccer Team | 03/08/23, 09:27 pm | |
| Homeschool Soccer Team | 03/08/23, 09:20 pm | |
| Homeschool Soccer Team | 03/08/23, 09:13 pm | |
| Homeschool Soccer Team | 03/08/23, 09:05 pm | |
| Homeschool Soccer Team | 03/08/23, 08:55 pm | |
| Homeschool Soccer Team | 03/08/23, 08:47 pm | |
Be An Athletic Supporter!
Donate and get this nifty tag!
Statistics
We have
15629
registered users
The newest registered user is
harry potter
Our users have posted a total of
205131
messages in
31927
subjects
Just one more week to get in on early bird registration for our for the newly re-branded Kick or Treat Halloween 3v3 at the new Round Rock Multipurpose Complex! All games will be played on the turf fields.
This is the one you don't want to miss. If you've never done Halloween and 3v3 in Round Rock, you're in for a lot of fun. Prizes for the best team and adult costumes, games, vendors, sponsor booths and more! Also, all participating Kick or Treat teams get an exclusive $50 per team discount on their registration fees for the USA 3v3 Nationals in Dallas in November!
For more information, and to register, visit our page at: https://www.3v3soccer.com/event-detail/?eventGuid=E81786AB-CA95-2D22-829E-61EC10777616 or email Robin Rodriguez at projects@oneworldsoccer.com.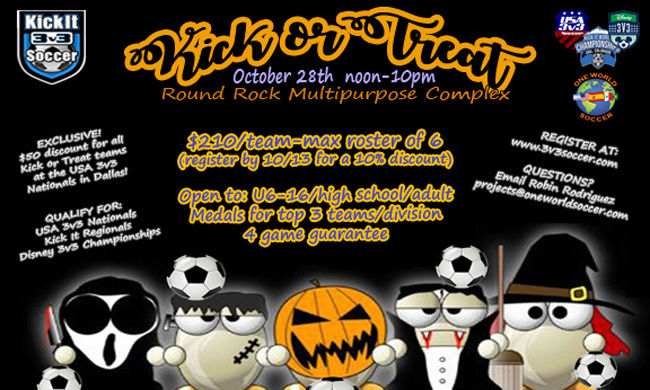 Only one week left to get your team registered for the most fun Halloween tournament in Texas!
www.3v3soccer.com to register your team now!
Costume contests....games....tent to tent trick or treating....and a minimum of four games!

__________________________________________________
Robin Rodriguez
[i]Southwest Region Tour Director
Kick It 3v3 Soccer
robinr@grandsportsmgmt.com
www.3v3soccer.com[/i]
---
Permissions in this forum:
You
cannot
reply to topics in this forum