Latest topics
| | | |
| --- | --- | --- |
| ECNL 04 Girls Week 9 | Yesterday at 10:12 pm | |
| NEED A GOALIE - SPARTA FC04 Girls | 29/10/20, 11:36 am | |
| What is the most challeging road block you have encountered | 28/10/20, 10:57 pm | |
| Winter OUTDOOR League | 28/10/20, 06:41 pm | |
| Winter OUTDOOR League | 28/10/20, 06:35 pm | |
| Winter OUTDOOR League | 28/10/20, 06:30 pm | |
| Winter OUTDOOR League | 28/10/20, 06:24 pm | |
| Winter OUTDOOR League | 28/10/20, 06:07 pm | |
| Winter OUTDOOR League | 28/10/20, 05:39 pm | |
| Winter OUTDOOR League | 28/10/20, 05:21 pm | |
| Winter OUTDOOR League | 27/10/20, 11:52 am | |
| ECNL-08 | 26/10/20, 11:45 pm | |
| 07 ECNL | 26/10/20, 11:40 pm | |
| Sting Austin 05 | 26/10/20, 10:30 pm | |
| IberCup USA 2021 - March 30-April 4 in Dallas, TX | 26/10/20, 06:01 pm | |
| Looking for 06s in Lantana, Corinth, Denton & Flower Mound | 26/10/20, 05:19 pm | |
| Looking for 11s in Lantana, Corinth, Denton & Flower Mound | 26/10/20, 05:02 pm | |
| ECNL 04 Girls Week 8 | 26/10/20, 04:45 pm | |
| Looking for 14s in Lantana, Corinth, Denton & Flower Mound | 26/10/20, 04:27 pm | |
| Looking for GoalKeeper for Oct 31 7v7 Tourney Dallas TX | 23/10/20, 10:33 am | |
| Thoughts? | 21/10/20, 07:26 pm | |
| FCD v Solar | 19/10/20, 11:38 pm | |
| Looking for skills coach in Frisco and surrounding areas | 19/10/20, 01:22 pm | |
| DKSC '11G Evans - Farmers Branch, Carrollton, Dallas, Irving | 19/10/20, 12:46 pm | |
| Looking for players in Carrollton, The Colony, Coppell area | 18/10/20, 11:00 pm | |
Be An Athletic Supporter!
Donate and get this nifty tag!
Statistics
We have
14542
registered users
The newest registered user is
ForoSC
Our users have posted a total of
200452
messages in
29470
subjects
We are expanding our club by another team and are looking for four or more players to fill a second roster.  First step is to visit our open practices and our club camp will be our open tryouts for one of 40 spots.  

Click this link for more information
https://docs.google.com/forms/d/e/1FAIpQLSeRHTpm7wBt-4_Hgh5R2_BPtq7sBUVhRv4GZoqmW2X9xcykJw/viewform?usp=sf_link

__________________________________________________
J.J. Chapa
Coach FC Cardinals
214-837-0010

JJChapa

TxSoccer Poster





Posts

: 38


Points

: 2060


Join date

: 2015-06-04


Age

: 47


Location

: Melissa



Have your little ladies Join us Tues and Thur Last two open practices this week. We are having world cup games with prizes. We practice at 5:45 p.m. at Melissa High School Stadium 3150 Cardinal Drive, Melissa, Texas 75454.
Next week is our team soccer camp/tryouts with Elisa Hawn a player for Oklahoma State and Jordie Kondikoff a player for Texas State University.
We are looking to fill a Black team and a Red team. We are still looking to fill both rosters. Check out this link for more information https://goo.gl/forms/qX2ZnHw4NE4aw9cv1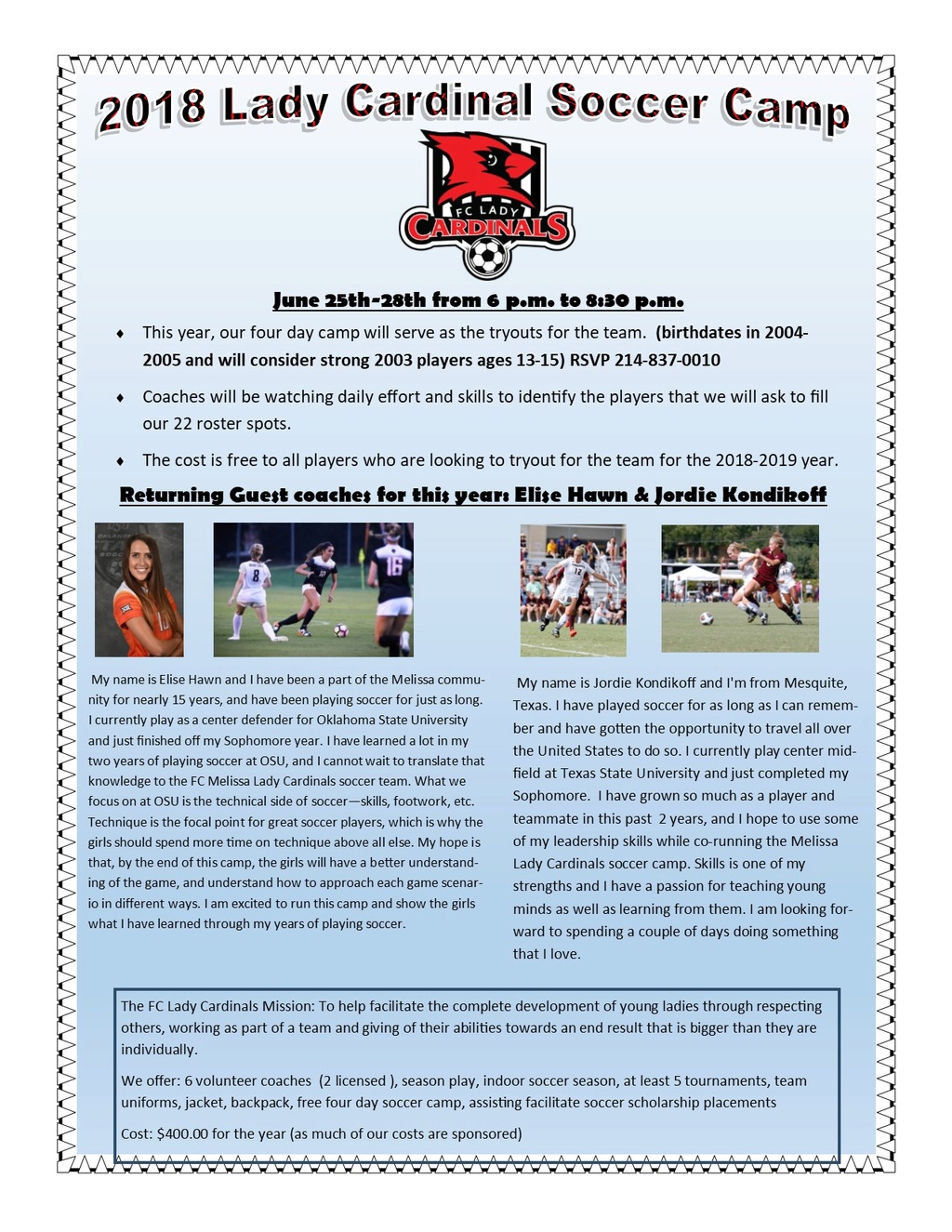 __________________________________________________
J.J. Chapa
Coach FC Cardinals
214-837-0010

JJChapa

TxSoccer Poster





Posts

: 38


Points

: 2060


Join date

: 2015-06-04


Age

: 47


Location

: Melissa



Please register for FC Lady Cardinal Soccer Camp. Begins tomorrow night at 6 p.m. Melissa High School. Call or text Coach JJ Chapa for more information at 214-837-0010

Here is the link to register.
https://goo.gl/forms/qX2ZnHw4NE4aw9cv1

__________________________________________________
J.J. Chapa
Coach FC Cardinals
214-837-0010

JJChapa

TxSoccer Poster





Posts

: 38


Points

: 2060


Join date

: 2015-06-04


Age

: 47


Location

: Melissa



---
Permissions in this forum:
You
cannot
reply to topics in this forum