Latest topics
| | | |
| --- | --- | --- |
| The Other Side | 23/03/23, 05:04 pm | |
| Dallas Surf East 2016s in Plano, Wylie, Sachse, & Murphy | 19/03/23, 08:21 pm | |
| Dallas Surf East 2015s in Plano, Wylie, Sachse, & Murphy | 19/03/23, 08:16 pm | |
| Gio Reyna's Mom Outs Berhalter to USSF | 10/03/23, 03:02 am | |
| Dallas Texans 15B Saldivar | 07/03/23, 07:21 pm | |
| Dallas Texans Academy 2015G | 07/03/23, 07:14 pm | |
| Looking for players | 28/02/23, 07:44 am | |
| Solar Hopkins 13G North Looking for a GK | 27/02/23, 08:45 am | |
| UT Longhorns Elite Camp for 11 year olds | 23/02/23, 05:27 pm | |
| Sleepless in Seattle | 21/02/23, 11:07 pm | |
| Cross City SC 12/13G (Allen, TX) | 21/02/23, 10:58 am | |
| Cross City SC 12/13G (Allen, TX) | 21/02/23, 10:51 am | |
| Solar 2014G Moreno/Rodriguez | 21/02/23, 10:50 am | |
| Cross City SC 15G | 21/02/23, 10:43 am | |
| Cross City SC 15B | 21/02/23, 10:34 am | |
| Cross City SC 07B (Allen, TX) | 20/02/23, 03:03 pm | |
| Cross City SC 05B Classic D1 (Allen, TX) | 20/02/23, 02:57 pm | |
| Cross City SC 09B Classic D1 (Allen, TX) | 20/02/23, 02:50 pm | |
| Cross City SC 11B/12B (Allen, TX) | 20/02/23, 02:41 pm | |
| Cross City SC 10B (Allen, TX) Classic Challenge Summer 23 | 20/02/23, 02:32 pm | |
| TEXAS STATE CUP - US CLUB SOCCER - April 20-23, 2023 | 15/02/23, 01:10 pm | |
| 2023 U90C SPORTS EVENT CALENDAR | 15/02/23, 01:09 pm | |
| StrikerZ DFW Youth Girls Teams | 14/02/23, 10:53 pm | |
| ISO Adult Medium BVB Kits | 09/02/23, 05:42 am | |
| Update: StrikerZ DFW Girls Tryouts | 04/02/23, 01:55 pm | |
Be An Athletic Supporter!
Donate and get this nifty tag!
Statistics
We have
15391
registered users
The newest registered user is
SuerteLee
Our users have posted a total of
204719
messages in
31584
subjects
Looks like Foxysoccermom, finally sobered up for a few minutes and got around to approving my reactivated account!
Anyways, posted this over on that Facebook thingamajig a couple weeks back.  Some of you might find this interesting...  what started as me checking up on how various friends & ex-teammates of my DD were doing in college, morphed into one of my little "pet projects".
Through various club/league postings, I tracked down and verified college roster presence of 172 NTX 2019 Grads.  I then compiled stats on their playing time during their Freshman seasons.  Below is a high-level summary of that data, broken down by:
1) College Level:  D1-Power5, D1-Sub-Power5, D2, D3, NAIA, & JUCO
2) Club Playing Level:  DA, ECNL, Comp (Composite/ECRL/DPL), LHGCL
3) College Level + Club Level
This is just an FYI, to give parents/players an overall expectation of what Freshman year will look like ON AVERAGE.  I am not trying to push any specific agenda here, just publishing data that I find interesting and thought others would find interesting as well.
Also include is data on where (what State) the 2019 NTX Grads ended up going to school, and what % ended up in TX + its immediate border states.  
A few notes here:
- This data represents AVERAGES.  There are several individual players who are playing/starting in 100% of their team's games, and playing 90+% of their team's minutes.  There are also several individual players who have played in <10% of their team's games and minutes.
- I have made no attempt to account for injuries and/or redshirting, mainly because I have no way of knowing every situation for every player, and if a player isn't playing, is it because of injury, or just coach's decision.  There are players included in these stats, whom I personally know are not playing/redshirting due to injury, but because I don't know the status of many others who aren't playing, it's not correct to exclude only the cases I know about.
- Data on % of games played and % of games started should be accurate for all of the different college levels, as those stats are kept up pretty well by all programs.
- Data on # of minutes played, is fairly accurate for D1 & D2 levels, as almost all of those programs keep stats on minutes played.  As you get down to D3/NAIA/JUCO, there are many programs that do not keep stats on minutes played, so those numbers are admittedly less reliable.
Enjoy!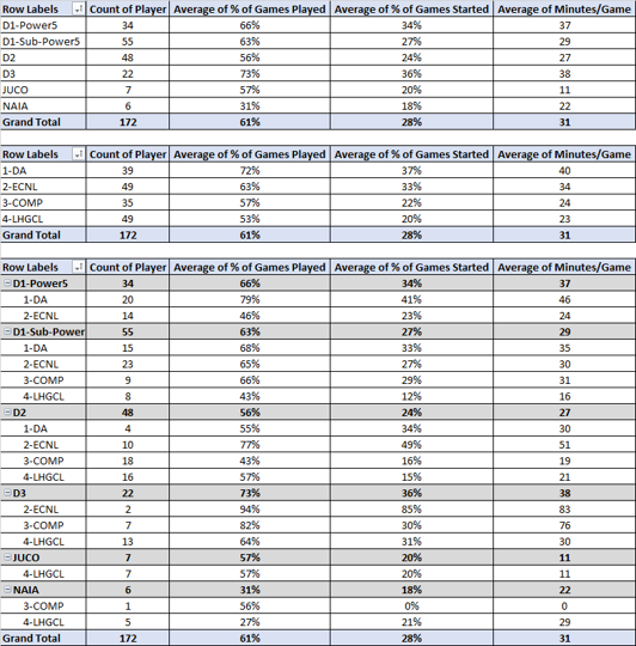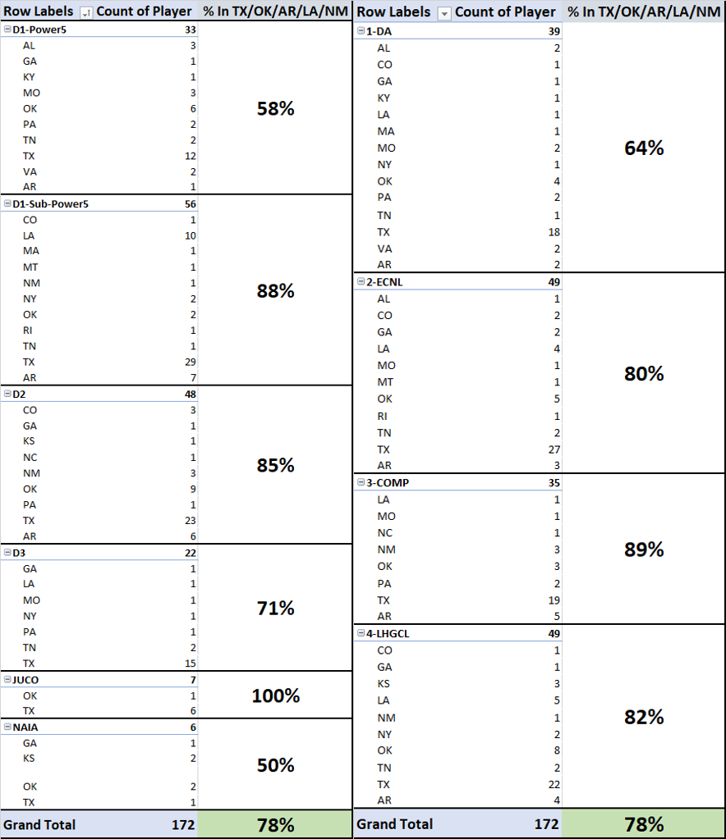 BWGophers

TxSoccer Poster





Posts

: 42


Points

: 1268


Join date

: 2019-11-24



It would be interesting to see how many transfer or stop playing after their Freshman year.

sota34

TxSoccer Poster





Posts

: 92


Points

: 4468


Join date

: 2011-04-03



Agreed. That would be interesting to track for the same reasons that I tracked the above numbers this year.

We'll see how motivated (or should I say bored) I get next fall. It won't be much effort to do roster checks to see what players don't return to the roster they were on as Freshman.

More effort and more difficult to figure out if they transferred vs. stopped playing.

__________________________________________________
If you're gonna talk the talk...  don't show up in a wheelchair with two broken legs...

BWGophers

TxSoccer Poster





Posts

: 42


Points

: 1268


Join date

: 2019-11-24



Fascinating. You have more time than I have.

smugrr

TxSoccer Postmaster





Posts

: 357


Points

: 2703


Join date

: 2017-05-10



It's things and posters like this that make this site still worth coming to.
Thanks for sharing.

Hersoccerdad

TxSoccer Poster





Posts

: 53


Points

: 2966


Join date

: 2015-04-22



Similar topics
---
Permissions in this forum:
You
cannot
reply to topics in this forum