Latest topics
| | | |
| --- | --- | --- |
| (whatsapp:+46739780300)Buy Abortion pills in #Dubai ,Ajman | Today at 04:47 am | |
| (whatsapp:+46739780300)Buy Abortion pills in #Dubai ,Ajman | Today at 03:59 am | |
| (whatsapp:+46739780300)Buy Abortion pills in #Dubai ,Ajman | Today at 03:47 am | |
| (whatsapp:+46739780300)Buy Abortion pills in #Dubai ,Ajman | Today at 03:41 am | |
| (whatsapp:+46739780300)Buy Abortion pills in #Dubai ,Ajman | Today at 03:09 am | |
| (whatsapp:+46739780300)Buy Abortion pills in #Dubai ,Ajman | Today at 03:02 am | |
| (whatsapp:+46739780300)Buy Abortion pills in #Dubai ,Ajman | Today at 02:50 am | |
| (whatsapp:+46739780300)Buy Abortion pills in #Dubai ,Ajman | Today at 02:43 am | |
| (whatsapp:+46739780300)Buy Abortion pills in #Dubai ,Ajman | Today at 02:36 am | |
| (whatsapp:+46739780300)Buy Abortion pills in #Dubai ,Ajman | Today at 02:31 am | |
| (whatsapp:+46739780300)Buy Abortion pills in #Dubai ,Ajman | Today at 02:24 am | |
| (whatsapp:+46739780300)Buy Abortion pills in #Dubai ,Ajman | Today at 02:07 am | |
| (whatsapp:+46739780300)Buy Abortion pills in #Dubai ,Ajman | Today at 01:57 am | |
| DKSC 07B ESQUIBEL-NPL looking to add players | Today at 12:12 am | |
| DKSC 08B looking to add 2-3 more players | Today at 12:05 am | |
| FC Dallas '09 West (Kang)-Classic League DI | Yesterday at 11:58 pm | |
| Renegades Vaughn 2011 Girls Open Training | Yesterday at 11:15 pm | |
| NTX Celtic 04G NPL Open Tryouts | Yesterday at 10:12 pm | |
| Solar 07b Juliao looking for a few players | Yesterday at 09:49 pm | |
| FC Dallas 04G West Red - Lake Highlands D1 Bye | Yesterday at 09:17 pm | |
| Coppell FC 06B | Yesterday at 08:29 pm | |
| Solar 12BKlassen (f. McKinney/Arnold) | Yesterday at 08:17 pm | |
| Coppell FC 08G - Open Practice | Yesterday at 07:32 pm | |
| Texas Spirit 09 Khoury - GCL (Flower Mound) | Yesterday at 05:21 pm | |
| DKSC04G Rangira - LHGCL - D1 Open Tryouts | Yesterday at 04:48 pm | |
Be An Athletic Supporter!
Donate and get this nifty tag!
Statistics
We have
14309
registered users
The newest registered user is
igal
Our users have posted a total of
197607
messages in
28390
subjects
The DKSC 09g Garfias team will be having open training Saturday, May 16th at 10am at FUT360 located at 3620 W. Davis St., Dallas, TX 75211. Make sure to contact Coach Jesse at (214) 903-2650 or the manager Denise at (214) 228-5373.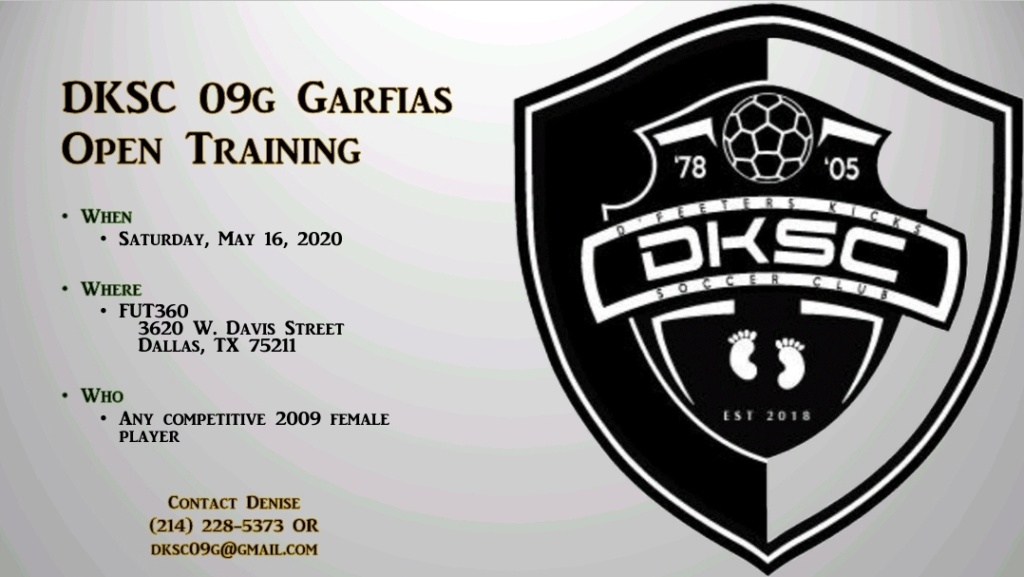 DKSC09gGarfias

TxSoccer Lurker





Posts

: 1


Points

: 30


Join date

: 2020-05-08



---
Permissions in this forum:
You
cannot
reply to topics in this forum