Latest topics
| | | |
| --- | --- | --- |
| 2015/2016 boys looking for practice scrimmage | 13/08/22, 04:56 pm | |
| Saints 07B is still looking for 2-3 more players | 12/08/22, 08:24 pm | |
| Soccer team | 12/08/22, 07:36 pm | |
| Searching for a team | 12/08/22, 12:08 pm | |
| FC Fast 2010 Boys (Powell) Looking for 1-2 more players! | 11/08/22, 10:12 am | |
| Saints 07B still looking for 2-3 more players | 10/08/22, 11:11 am | |
| Sleepless in Seattle | 09/08/22, 07:03 pm | |
| TOURNAMENT: U90C LABOR DAY OPEN Sept 2-5, 2022 | 09/08/22, 08:41 am | |
| Teams? | 03/08/22, 06:39 pm | |
| Olympians 14B - Open Practices (North FTW-Keller area) | 01/08/22, 05:36 pm | |
| Olympians 10B RED - CLASSIC D3 - Open tryouts 22/23 season | 01/08/22, 05:21 pm | |
| 2015B Dallas Texans | 30/07/22, 07:59 pm | |
| B2010 Keeper seeking possible team | 30/07/22, 02:08 pm | |
| Texans Boy Uniform Kit #27 | 29/07/22, 03:36 pm | |
| McKinney United - Blue Classic League | 29/07/22, 03:11 pm | |
| 2014s looking to play 2013 N Fort Worth/Saginaw/Keller | 28/07/22, 10:28 pm | |
| Newly Formed Team N. Fort Worth/Saginaw/Keller | 28/07/22, 10:22 pm | |
| 2004B - Grand Prairie, Arlington, Mansfield, Irving, Dallas | 25/07/22, 09:31 am | |
| Independent team (Crusaders SC) looking for two 2015 boys | 24/07/22, 01:31 am | |
| Independent Team (Crusaders SC) looking for two 2015 Boys | 24/07/22, 12:48 am | |
| TOURNAMENT: U90C SPORTS CLASSIC Aug. 12-14, 2022 | 22/07/22, 11:37 am | |
| SCRIMMAGES 06/07/08 BOYS | 21/07/22, 07:53 am | |
| SCRIMMAGES 07/08/06 BOYS | 20/07/22, 04:33 pm | |
| 2012 & 2013 Texans Boys opportunities | 20/07/22, 03:00 pm | |
| FRISCO FUSION 09G - GCL/NPL | 20/07/22, 02:44 pm | |
Be An Athletic Supporter!
Donate and get this nifty tag!
Statistics
We have
15317
registered users
The newest registered user is
Luis
Our users have posted a total of
204603
messages in
31512
subjects
Coppell FC 08B Williams is looking to add a few new players for 11v11. Coach Greg is a fantastic, experienced coach, who is great at developing players to their fullest potential. The club has low fees, great fields with lights, and provides a great soccer family. Visit https://coppellfc.com.
Coach Greg Williams | gregwilliams.coppellfc@gmail.com | (214) 236-4433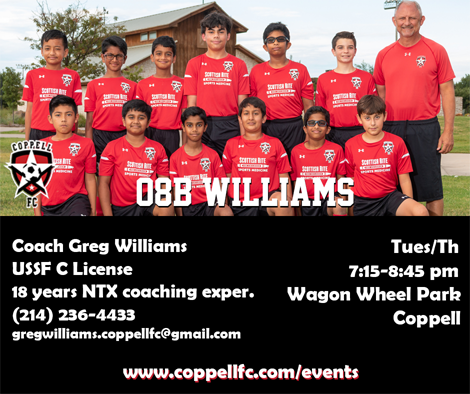 Coppell FC 08B Williams is looking for a few players to add to a strong and committed core to transition to 11v11. Coach Greg is an outstanding coach. Practices are in Coppell and close distance from Lewisville, Carrollton and Irving. Practices are Tues/Th 7:15pm. Visit https://coppellfc.com/select.

Coach Greg Williams
USSF C License
(214) 236-4433
Similar topics
---
Permissions in this forum:
You
cannot
reply to topics in this forum