Latest topics
| | | |
| --- | --- | --- |
| Sleepless in Seattle | Today at 08:14 pm | |
| Juventus FC Dallas 2007 Girls. FORZA JUVE | Today at 05:23 pm | |
| 2009G Dallas Texans | Today at 01:10 pm | |
| Texas Xtreme '10 Girls Tryouts | Today at 10:12 am | |
| BVB 04/05 ECNL RL NTX / GA2 | Today at 10:10 am | |
| BVB 08B SEDEH - CLASSIC D2 | Today at 10:00 am | |
| Texas Xtreme '05 Tryouts | Today at 10:00 am | |
| BVB 08G ECNL RL NTX / GA2 | Today at 09:49 am | |
| Last Call! FC Dallas ECNL RL Try-outs | Yesterday at 03:23 pm | |
| Seeking adult small BVB kit | Yesterday at 03:03 pm | |
| Dallas Texans 10G (previously Renegades 10G Saldivar) | Yesterday at 01:22 pm | |
| Juventus Premier FC 10g | Yesterday at 01:10 pm | |
| Sting NTX Black RL U18/U19G Tryout Details | 29/06/22, 05:32 pm | |
| Sting Black NTX ECNL RL U18/U19G Tryouts | 29/06/22, 05:04 pm | |
| Frisco FC TRYOUT | 29/06/22, 01:51 pm | |
| Kernow Storm FC 13B (Bradford) | 29/06/22, 12:40 pm | |
| Kernow Storm FC 14B (Bradford) | 29/06/22, 09:18 am | |
| Dallas Texans Central - 2011 Girls - ECNL/RL - Classic 2 | 28/06/22, 03:12 pm | |
| Dallas Texans 10G (previously Renegades 10G Saldivar) | 28/06/22, 12:21 pm | |
| Texas Xtreme '05 Girls | 28/06/22, 12:19 pm | |
| Texas Xtreme '10 Girls | 28/06/22, 12:09 pm | |
| Juventus FC Dallas 2007 Girls LAST TRYOUT | 28/06/22, 11:20 am | |
| 2011B - Grand Prairie, Arlington, Mansfield, Irving, Dallas | 28/06/22, 10:52 am | |
| 2009B - Grand Prairie, Arlington, Mansfield, Irving, Dallas | 28/06/22, 10:47 am | |
| 2014B - Grand Prairie, Arlington, Mansfield, Irving, Dallas | 28/06/22, 10:42 am | |
Be An Athletic Supporter!
Donate and get this nifty tag!
Statistics
We have
15300
registered users
The newest registered user is
Shelley1969
Our users have posted a total of
204528
messages in
31479
subjects
Coppell FC 05B Williams Black is looking to qualify for Classic in June and has 1-2 roster spots open. Currently in D1 PPIL. Coach Greg is a fantastic, experienced coach, and he has had a core of this team for 7 years. The club has low fees, great fields with lights, and provides a great soccer family. Visit https://coppellfc.com.
Coach Greg Williams | gregwilliams.coppellfc@gmail.com | (214) 236-4433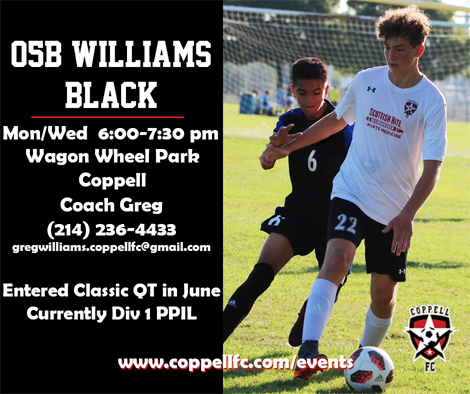 Coppell FC 05B Williams Black will play in the Classic QT in June and has 1-2 roster spots open. Currently in D1 PPIL. Coach Greg is an outstanding coach. Practices are in Coppell on city fields and close to Carrollton, Lewisville, and Irving areas. The core of this team has been playing together for 7 years. The club has low fees, great fields with lights, and provides a great soccer family. Visit https://coppellfc.com/select.

Coach Greg Williams | gregwilliams.coppellfc@gmail.com | (214) 236-4433
Similar topics
---
Permissions in this forum:
You
cannot
reply to topics in this forum