Latest topics
| | | |
| --- | --- | --- |
| Premier League Clubs' Interesting Nicknames | Today at 02:03 am | |
| 08 Boys 16th Annual Winter Cup 29th-31st January The Colony | Yesterday at 10:29 pm | |
| 09 Boys 16th Annual Winter Cup 29th-31st January The Colony | Yesterday at 09:34 pm | |
| 09 Girls 16th Annual Winter Cup 29th-31st January The Colony | Yesterday at 09:29 pm | |
| 16th Annual Winter Cup 29th-31st January The Colony | Yesterday at 04:02 pm | |
| 16th Annual Winter Cup 29th-31st January The Colony | Yesterday at 12:13 pm | |
| 07 Boys 16th Annual Winter Cup 29th-31st January The Colony | Yesterday at 12:08 pm | |
| 10 Boys 16th Annual Winter Cup 29th-31st January The Colony | Yesterday at 10:44 am | |
| FC Dallas (Frisco) 2013 and 2014 teams recruiting! | Yesterday at 12:46 am | |
| FC Dallas (Frisco) 2013 and 2014 teams recruiting! | Yesterday at 12:36 am | |
| 16th Annual Winter Cup 29th-31st January The Colony | 17/01/21, 06:44 pm | |
| BVB 11G Silver- Carrollton, The Colony, Coppell, Lewisville | 17/01/21, 06:33 pm | |
| 11 Boys 16th Annual Winter Cup 29th-31st January The Colony | 17/01/21, 05:14 pm | |
| FC Dallas North Black - looking for 2 more | 17/01/21, 12:59 pm | |
| 04 Boys Teams - U90C SPRING KICKOFF (Feb 4-7, 2021) | 17/01/21, 11:49 am | |
| 06 Boys Teams - U90C SPRING KICKOFF (Feb 4-7, 2021) | 17/01/21, 11:48 am | |
| 07 Boys Teams - U90C SPRING KICKOFF (Feb 4-7, 2021) | 17/01/21, 11:47 am | |
| 08 Boys Teams - U90C SPRING KICKOFF (Feb 4-7, 2021) | 17/01/21, 11:47 am | |
| 09 Boys Teams - U90C SPRING KICKOFF (Feb 4-7, 2021) | 17/01/21, 11:46 am | |
| 10 Boys Teams - U90C SPRING KICKOFF (Feb 4-7, 2021) | 17/01/21, 11:45 am | |
| 11 Boys Teams - U90C SPRING KICKOFF (Feb 4-7, 2021) | 17/01/21, 11:44 am | |
| 12 Boys Teams - U90C SPRING KICKOFF (Feb 4-7, 2021) | 17/01/21, 11:43 am | |
| 03 Boys Teams - U90C SPRING KICKOFF (Feb 4-7, 2021) | 17/01/21, 11:43 am | |
| 14 Boys Teams - U90C SPRING KICKOFF (Feb 4-7, 2021) | 17/01/21, 11:42 am | |
| 05 Girls Teams - U90C SPRING KICKOFF (Feb 4-7, 2021) | 17/01/21, 11:37 am | |
Be An Athletic Supporter!
Donate and get this nifty tag!
Statistics
We have
14617
registered users
The newest registered user is
MegaDad5000
Our users have posted a total of
200843
messages in
29611
subjects
Coppell FC 08B Shabout is looking for players to add as the team transitions to 11v11. Coach Nadim is a fantastic coach and is the club's DOC and also a coach for 06B ODP. The core of the team has been together for 3 years. Low fees, practice on City fields with lights, and a great club community. Register at https://coppellfc.com/select.
Coach Nadim Shabout | shabout.coppellfc@gmail.com | (214) 418-4643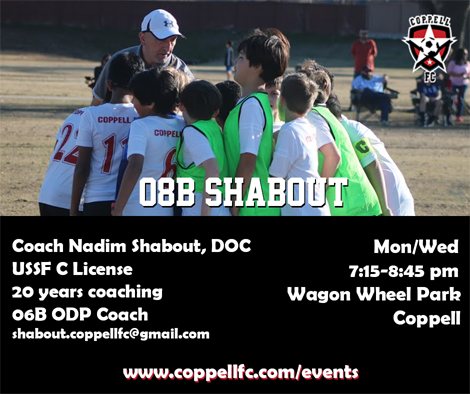 Coppell FC 08B Shabout is looking for a couple of players to add to this committed group of boys. Coach Nadim is an amazing coach with more than 20 years of experience. The core of the team has been together for 3 years. Register at https://coppellfc.com/select.

Coach Nadim Shabout | shabout.coppellfc@gmail.com | (214) 418-4643
Coppell FC 08B Shabout is looking for a couple of players to add to this committed group of boys. Coach Nadim is an amazing coach with more than 20 years of experience. The core of the team has been together for 3 years. Register for open practices at https://coppellfc.com/select.

Coach Nadim Shabout | shabout.coppellfc@gmail.com | (214) 418-4643
---
Permissions in this forum:
You
cannot
reply to topics in this forum