Latest topics
| | | |
| --- | --- | --- |
| Dallas Texans 15B Saldivar | 24/01/23, 10:03 am | |
| Frisco Fusion 13G Blue (Axon) | 22/01/23, 11:44 pm | |
| Frisco Fusion 11G Blue (Axon) | 22/01/23, 11:38 pm | |
| Solar 16's Girls Shepard | 18/01/23, 07:27 am | |
| New Club: StrikerZ DFW Youth | 17/01/23, 08:57 pm | |
| New Club: StrikerZ DFW Youth | 17/01/23, 08:49 pm | |
| StrikerZ DFW Youth U10-U13 Girls and Boys Tryouts | 17/01/23, 08:34 pm | |
| StrikerZ DFW Youth U10 Girls Tryouts | 17/01/23, 08:27 pm | |
| Winter Cup 2023 27th-29th January | 16/01/23, 09:23 am | |
| TOURNAMENT: U90C SPRING KICKOFF - Feb 2-5, 2023 | 12/01/23, 10:00 am | |
| Dallas Texans 2016G Fraga & Ramirez teams | 10/01/23, 10:36 am | |
| Gio Reyna's Mom Outs Berhalter to USSF | 04/01/23, 05:41 pm | |
| Dallas Texans Ramirez 2013G | 04/01/23, 02:18 am | |
| BVB 2015 Boys - Wylie, Rockwall, Plano | 02/01/23, 04:56 pm | |
| PD1 Supplemental Training | 01/01/23, 11:28 am | |
| TOURNAMENT: U90C HILL COUNTRY CLASSIC - MOVED TO NTX- Jan 27 | 20/12/22, 10:09 am | |
| Best/Worst 07/06/05 Coaches? | 17/12/22, 12:58 am | |
| TEXAS STATE CUP - US CLUB SOCCER - April 20-23, 2023 | 15/12/22, 11:05 am | |
| Sting 2013G Team looking for a Keeper | 14/12/22, 02:44 pm | |
| RPL SPRING 2023 (ACADEMY + 2011 11v11 Divisions) REG. OPEN | 12/12/22, 03:07 pm | |
| 13G Texas Spurs FC- Pierson | 12/12/22, 12:37 pm | |
| RINGERS | 10/12/22, 10:36 am | |
| SOLAR WEST- 12,13,14 Boys- Roanoke the Pit fields | 07/12/22, 01:40 pm | |
| 2014-2017 Boys welcome * Dallas Texans | 28/11/22, 01:57 pm | |
| Solar 13 Shepard | 17/11/22, 09:15 pm | |
Be An Athletic Supporter!
Donate and get this nifty tag!
Statistics
We have
15379
registered users
The newest registered user is
aadhyav
Our users have posted a total of
204683
messages in
31562
subjects
Looking to add players to both the Premier and Black South teams. All positions are welcome.
Training Facility: BVB South Training Grounds
Arlington Baptist Church
3434 South Collins Street
Arlington, TX 76014
Tuesday and Thursday 6:00 - 7:30 PM
Contact 817-779-0768 to schedule a session and more details.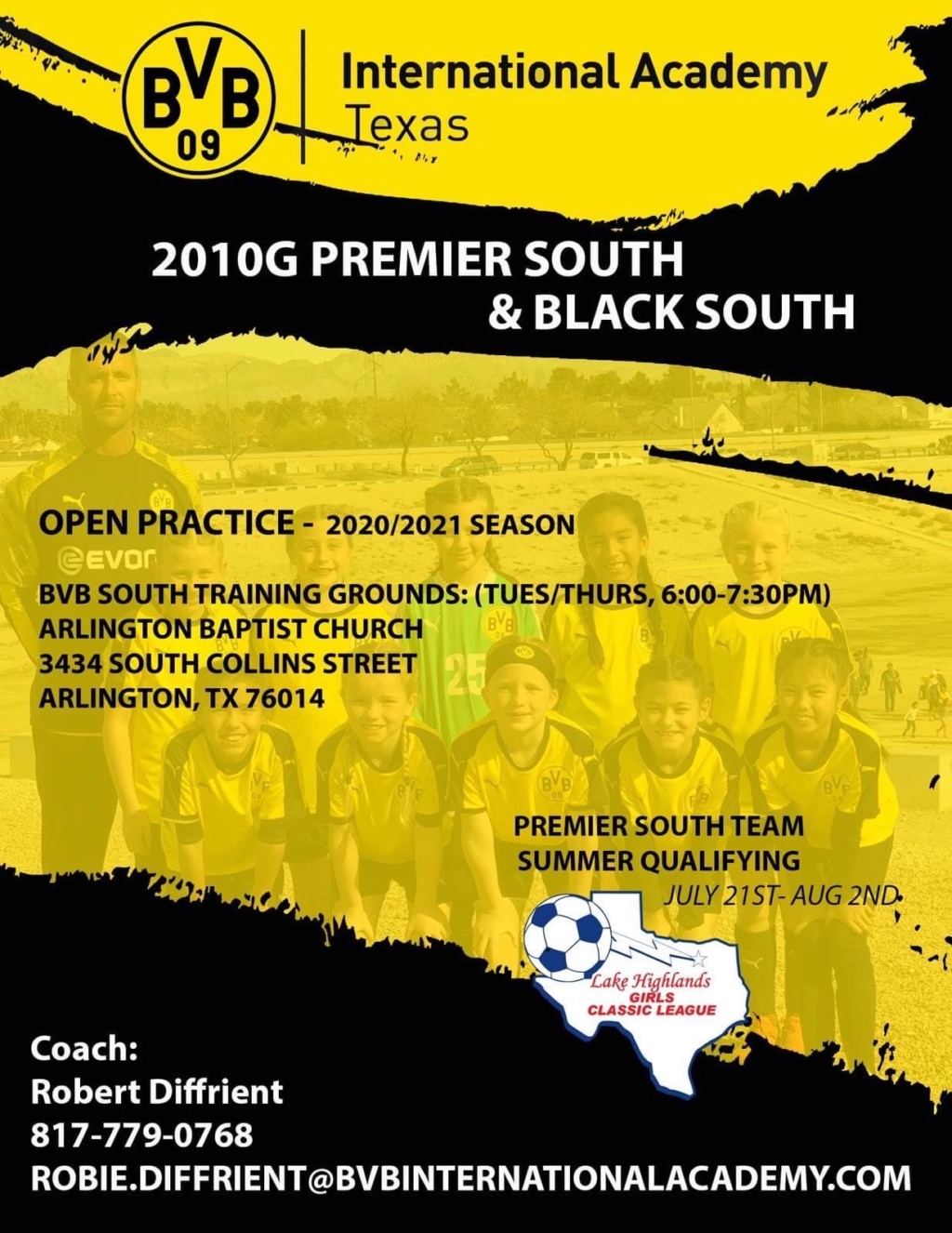 fratangelo

TxSoccer Lurker





Posts

: 8


Points

: 1358


Join date

: 2019-05-30



We will have an additional session this Sat(May 30) at 1pm at our training field in Arlington(3434 S Collins 76014). If you would like to attend please contact.
Coach Robie 817-779-0768

southside19

TxSoccer Lurker





Posts

: 7


Points

: 1176


Join date

: 2019-11-24



We will be having a scrimmage Sat morning. Please contact if interested
Coach Robie
817-779-0768

southside19

TxSoccer Lurker





Posts

: 7


Points

: 1176


Join date

: 2019-11-24



This weeks training will be at Harold Patterson(Field23), T/Th 6-8pm

southside19

TxSoccer Lurker





Posts

: 7


Points

: 1176


Join date

: 2019-11-24



---
Permissions in this forum:
You
cannot
reply to topics in this forum