Latest topics
| | | |
| --- | --- | --- |
| TOURNAMENT: U90C SPORTS CLASSIC Aug. 13-15, 2021 | Today at 12:54 pm | |
| Manchester SC- Looking for 1-2 girls | Yesterday at 05:02 pm | |
| 07 Boys Teams - U90C SPORTS CLASSIC Aug 13-15, 2021 | 23/07/21, 05:28 pm | |
| 08 Boys Teams - U90C SPORTS CLASSIC Aug 13-15, 2021 | 23/07/21, 05:27 pm | |
| 09 Boys Teams - U90C SPORTS CLASSIC Aug 13-15, 2021 | 23/07/21, 05:26 pm | |
| 10 Boys Teams - U90C SPORTS CLASSIC Aug 13-15, 2021 | 23/07/21, 05:26 pm | |
| 13 Boys Teams - U90C SPORTS CLASSIC Aug 13-15, 2021 | 23/07/21, 05:25 pm | |
| 03 Girls Teams - U90C SPORTS CLASSIC Aug 13-15, 2021 | 23/07/21, 05:22 pm | |
| 06 Girls Teams - U90C SPORTS CLASSIC Aug 13-15, 2021 | 23/07/21, 05:21 pm | |
| 08 Girls Teams - U90C SPORTS CLASSIC Aug 13-15, 2021 | 23/07/21, 05:20 pm | |
| 09 Girls Teams - U90C SPORTS CLASSIC Aug 13-15, 2021 | 23/07/21, 05:19 pm | |
| 10 Girls Teams - U90C SPORTS CLASSIC Aug 13-15, 2021 | 23/07/21, 05:18 pm | |
| 13 Girls Teams - U90C SPORTS CLASSIC Aug 13-15, 2021 | 23/07/21, 05:17 pm | |
| RPL - REGIONAL PREMIER LEAGUE - FALL 2021 REGISTRATION OPEN | 23/07/21, 04:56 pm | |
| LAST DAY OF EXTENDED REGISTRATION - TEXAS SUMMER CLASSIC | 23/07/21, 03:19 pm | |
| TCSL FALL 2021 U6-U14 SAVE UP TO $75 | 23/07/21, 11:18 am | |
| BVB 10G Green - 1 spot available | 23/07/21, 10:05 am | |
| FC Fast 2010 Boys (Powell) Looking for 1-2 more players! | 23/07/21, 08:47 am | |
| Texas ECNL Final Club Standings (2020-21) | 22/07/21, 05:02 pm | |
| Texas Lonestars open spot. | 22/07/21, 07:55 am | |
| NTX CELTIC 13B DUKE- FM,COPPELL,HV,CARROLLTON | 22/07/21, 05:47 am | |
| EXTENDED REGISTRATION - TEXAS SUMMER CLASSIC | 21/07/21, 01:25 pm | |
| Manchester SC 04B Albion Open Sessions | 20/07/21, 11:46 pm | |
| College ID Camp for $60 Men July 21st and Women 22nd | 20/07/21, 12:12 pm | |
| Renegades 13B North - Blanton | 19/07/21, 09:41 pm | |
Be An Athletic Supporter!
Donate and get this nifty tag!
Statistics
We have
14998
registered users
The newest registered user is
soccer712
Our users have posted a total of
203250
messages in
30753
subjects
Sting 09G Boyle (F:Colleyville Evo 09G)
Lake Highlands QT
Looking to add 2-3 players to an already committed group.
Open Tryouts (June 1st -June 30th)
We will practice Monday, Wednesday & Friday during the summer in Texas Star at Euless.
Contact the coach directly at tomasboyle2020@gmail.com for more information or if you have any questions.
Coach Tomas
UEFA B Licence
817-566-3823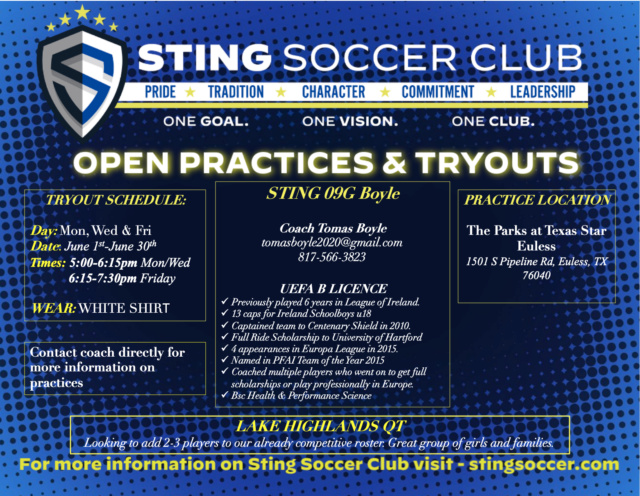 CoachBoyle

TxSoccer Postmaster





Posts

: 212


Points

: 1926


Join date

: 2017-05-24



Open Tryouts begin tonight in Texas Star at Euless!!

Please reach out to Coach Tomás directly at tomasboyle2020@gmail.com if you plan on attending or have any questions

Coach Tomás
UEFA B Licence
817-566-3823

CoachBoyle

TxSoccer Postmaster





Posts

: 212


Points

: 1926


Join date

: 2017-05-24



Open Practice tonight in Texas Star at Euless!!


Please reach out to Coach Tomás directly at tomasboyle2020@gmail.com if you plan on attending or have any questions

Coach Tomás
UEFA B Licence
817-566-3823

CoachBoyle

TxSoccer Postmaster





Posts

: 212


Points

: 1926


Join date

: 2017-05-24



---
Permissions in this forum:
You
cannot
reply to topics in this forum