Latest topics
| | | |
| --- | --- | --- |
| ECNL, ECRL, ECNL NTX —- whats the difference | Yesterday at 10:06 pm | |
| Looking for 2 more players (Manchester SC 07) | Yesterday at 06:01 pm | |
| Solar youth kit | Yesterday at 03:58 pm | |
| 2009 (Girl) Keeper looking for a team! | Yesterday at 02:51 pm | |
| FCDallas 10G Bogus - A few slots still open | Yesterday at 12:59 pm | |
| Solar 08G O'Shea | Yesterday at 12:33 pm | |
| FC Dallas 09g West Blue | Yesterday at 12:13 pm | |
| BVB South Girls | Yesterday at 09:34 am | |
| Looking for Players | Yesterday at 08:34 am | |
| Texans game kits, practice gear and backpack for sale | Yesterday at 08:23 am | |
| Majestic 05G | Yesterday at 07:26 am | |
| Solar 07 FDL Opportunity | Yesterday at 07:06 am | |
| Soccer Club Hoppers Should They Be Blacklisted? | 08/07/20, 11:07 pm | |
| Team fundraising - FlipGive | 08/07/20, 10:50 pm | |
| FC Dallas Central 2014 Girls - Skills Training - N. Dallas | 08/07/20, 08:54 pm | |
| 10-12 Texans Kits | 08/07/20, 08:51 pm | |
| FC Dallas Central 2013 Girls - Skills Training - N. Dallas | 08/07/20, 08:49 pm | |
| FC Dallas Central 2012G - Open Skills Trainnig - N. Dallas | 08/07/20, 08:37 pm | |
| FC Dallas Central '13B - Adding New Players - N. Dallas | 08/07/20, 08:19 pm | |
| FC Dallas Central 2012B - Open Training - Dallas/Richardson | 08/07/20, 08:14 pm | |
| FC DALLAS 04G TEAM - CLASSIC D2 (OPEN SPOTS) | 08/07/20, 06:29 pm | |
| Sting Hopkins 08G - GCL D1- Looking for Players | 08/07/20, 02:24 pm | |
| Sting Hopkins 08G -GCL D1 - Looking for Players | 08/07/20, 02:15 pm | |
| Legacy FC - Tryouts & Open Practice | 08/07/20, 02:12 pm | |
| Legacy FC 03 - Tryouts & Open Practices | 08/07/20, 02:04 pm | |
Be An Athletic Supporter!
Donate and get this nifty tag!
Statistics
We have
14435
registered users
The newest registered user is
Solar03BWhite
Our users have posted a total of
199351
messages in
29136
subjects
Sting Royal 05 ECNL - Regional League
will be holding Open Try-Outs on Tuesday, June 30th!
We are looking for one (1) player that is interested at playing at this level.
OPEN TRYOUTS


Tuesday, June 30th - 8:15pm - 9:45pm - Fields 1-4
Our Training Field is located at 301 Trophy Lake Dr Roanoke 76262
Please contact me directly for more information or with questions.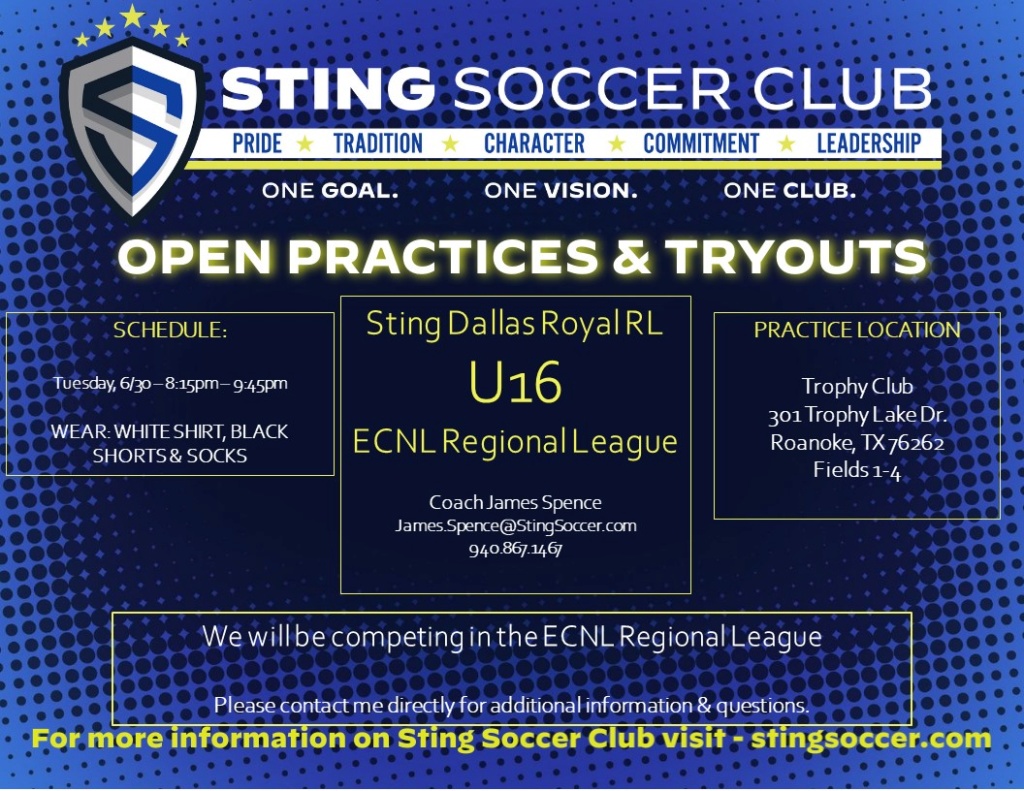 __________________________________________________
Thanks,

James Spence | Sting Soccer Club
Coach: 05G ECRL | 06G ECRL | 09G LHGCL D1 | 09G Royal
Cell: 940-867-1467
E-Mail: jcspence4@gmail.com
Sting Website http://www.stingsoccer.com
---
Permissions in this forum:
You
cannot
reply to topics in this forum