Latest topics
| | | |
| --- | --- | --- |
| Renegades 2012G Mendoza open trainings | Yesterday at 12:44 pm | |
| Next Generation Cup 2021 | 04/03/21, 03:18 pm | |
| Affordable Spring Break Soccer Camp | 04/03/21, 07:15 am | |
| Speed, Agility and Skills Camp 3/8-3/10 | 04/03/21, 07:10 am | |
| Soccer Skills in Wylie, TX | 04/03/21, 07:03 am | |
| Agility, Speed and Skills Camp | 04/03/21, 06:58 am | |
| Surfs up in Dallas! (No Pun intended lol) | 03/03/21, 11:20 am | |
| SPTX SAO PAULO FC - SEDEH | 03/03/21, 10:01 am | |
| SPTX SAO PAULO FC - SEDEH | 03/03/21, 09:22 am | |
| SPTX SAO PAULO FC 04 G - SEDEH | 03/03/21, 09:13 am | |
| SPTX SAO PAULO FC 10G | 03/03/21, 09:04 am | |
| SPTX SAO PAULO FC 08 B | 03/03/21, 08:56 am | |
| SPTX SAO PAULO FC - CLASSIC D1 | 03/03/21, 08:50 am | |
| FCD v Solar | 02/03/21, 08:04 pm | |
| ECNL Schedules | 02/03/21, 01:32 pm | |
| Texas ECNL Overall Club Rankings Fall 2020 | 26/02/21, 12:24 pm | |
| The Saints 07 boys team is recruiting | 23/02/21, 05:21 pm | |
| Looking for 2-3 players | 23/02/21, 12:30 pm | |
| 08G Keeper needing new team | 23/02/21, 09:46 am | |
| BVB 2015 Girls Starting in Wylie | 22/02/21, 10:28 pm | |
| BVB 2012 Girls Starting in Wylie | 22/02/21, 10:15 pm | |
| ISO 5 girls | 22/02/21, 12:15 pm | |
| BVB IA Texas starting a new 2007 girls team | 20/02/21, 07:25 pm | |
| BVB Girls PUMA looking for KEEPER to play FUTSAL this SPRING | 20/02/21, 08:13 am | |
| BVB Girls PUMA looking for a DEFENDER for the Spring season | 20/02/21, 08:00 am | |
Be An Athletic Supporter!
Donate and get this nifty tag!
Statistics
We have
14617
registered users
The newest registered user is
MegaDad5000
Our users have posted a total of
200964
messages in
29661
subjects
Solar 11G Colvin is hosting open practices for the month of January. Contact team mgr for further details.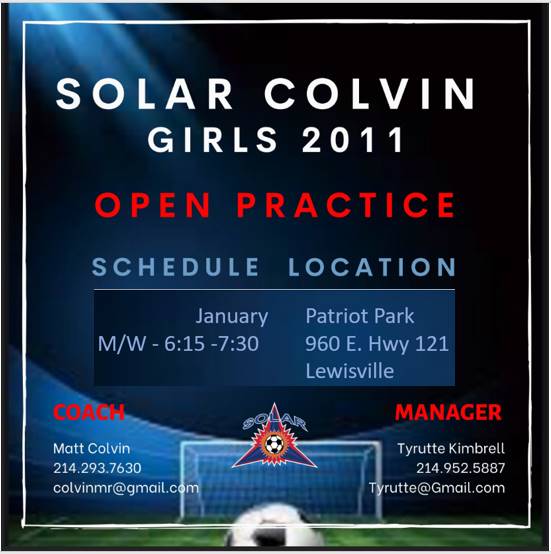 jessh403@yahoo.com

TxSoccer Lurker





Posts

: 2


Points

: 277


Join date

: 2020-06-08



---
Permissions in this forum:
You
cannot
reply to topics in this forum