Latest topics
| | | |
| --- | --- | --- |
| Solar 14' Rodriguez | 19/09/23, 09:34 pm | |
| TOURNAMENT: VETERAN HEROES CUP - Nov 10-12, 2023 | 13/09/23, 01:32 pm | |
| TOURNAMENT: U90C LEAGUE CHALLENGE CUP - Nov. 17-19 | 13/09/23, 01:27 pm | |
| TOURNAMENT: U90C UPPER 90 CHALLENGE - Dec. 1-3 | 13/09/23, 01:18 pm | |
| Renegades 13G North | 05/09/23, 04:01 pm | |
| Goalkeeper Wanted! 2007G Dallas Texans Soccer Team! | 05/09/23, 09:13 am | |
| Dallas Texans Jim Sendejas (2014,2015,2016,2017's) | 31/08/23, 09:01 am | |
| Goalkeeper Dallas Texans Central Red 09B Dixon | 29/08/23, 10:42 am | |
| ELITE SOCCER TRAINING - ALL AGES | 29/08/23, 09:19 am | |
| Dallas Texans 2017/18G Saldivar | 23/08/23, 11:21 pm | |
| EVOLUTION 14G MCGREGOR/GRAPEVINE/SOUTHLAKE/COLLEYVILLE | 14/08/23, 12:23 pm | |
| '03 Division Outlook | 13/08/23, 03:46 am | |
| Homeschool Soccer teams | 03/08/23, 10:20 pm | |
| Homeschool Soccer teams | 03/08/23, 10:14 pm | |
| Homeschool Soccer Teams | 03/08/23, 10:05 pm | |
| Homeschool Soccer teams | 03/08/23, 09:55 pm | |
| Homeschool Soccer teams | 03/08/23, 09:49 pm | |
| Homeschool Soccer Teams | 03/08/23, 09:42 pm | |
| Homeschool Soccer Teams | 03/08/23, 09:35 pm | |
| Homeschool Soccer Team | 03/08/23, 09:27 pm | |
| Homeschool Soccer Team | 03/08/23, 09:20 pm | |
| Homeschool Soccer Team | 03/08/23, 09:13 pm | |
| Homeschool Soccer Team | 03/08/23, 09:05 pm | |
| Homeschool Soccer Team | 03/08/23, 08:55 pm | |
| Homeschool Soccer Team | 03/08/23, 08:47 pm | |
Be An Athletic Supporter!
Donate and get this nifty tag!
Statistics
We have
15629
registered users
The newest registered user is
harry potter
Our users have posted a total of
205131
messages in
31927
subjects
Registration for Next Generation Cup 2021 is OPEN!
REGISTER HERE
All teams U8-U14 Boys & Girls teams are encouraged to apply. This year we will be debuting the Girls divisions. First, second, and third-place teams in Jr. Classic and Classic D1 Boys teams will be automatically accepted and awarded an invitational coin. This will be based on standings as of April 30th, 2021.
**ALL teams (applications) that apply will be examined and selected based on credentials, tournament history and the individual team's "trophy case". This process ensures the highest level of competition and sportsmanship. Several factors are taken into account including (but not exclusive to) current league standing, recent tournament participation, recent match results, etc.
Committed out of town teams so far:
LAUFA- California
Futbol Academy of SoCal- California
Official Tigres Academy of San Antonio
NOKC- Oklahoma
Sporting Wichita- Kansas City
Total Futbol Academy (TFA)- California
**There are additional out of town teams that have verbally committed and will be announced once officially registered**
For more info: 972-284-9819 or at nextgenerationtournament@gmail.com. More information available at www.nxtgensoccercup.com We look forward to your application!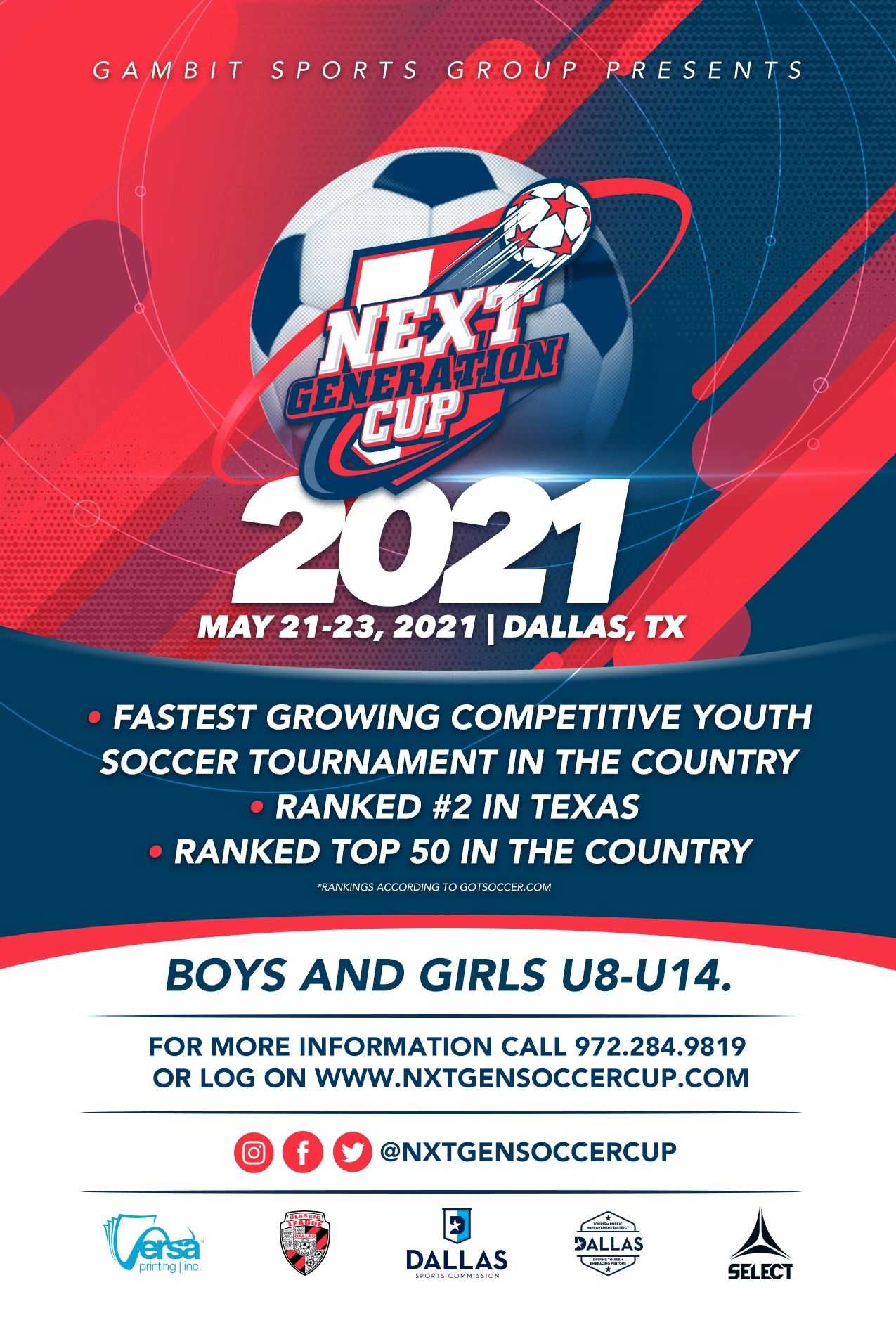 March 1, 2021

Dallas, TX - The Gambit Group, in association with Chamber Classic Soccer, will host its 3rd annual youth soccer tournament -- "Next Generation Cup" -- May 21st, 22nd and 23rd at McKinnish Park Sports Complex in Carrollton, Texas. Next Generation Cup is designed to provide an opportunity for the top competitive teams to compete and showcase the quality of their playing style. This tournament provides a unique experience for all teams whether they are from a club or independent. In only its second year The Next Generation Cup was ranked #36 in the country and #2 in Texas according to GotSoccer.com. It is with no doubt the country's fastest growing competitive youth soccer tournament. The Next Generation of ballers will want to play in this tournament.

Event organizers did have to cancel in 2020 amid Covid-19 and are taking proper precautions for this year's tournament. These include a recommendation of a limit of two spectators per athlete and everyone will be required to wear a mask unless they are on the field playing.

With the high demand of competitive quality and style of tournament, Next Generation Cup 2021 will introduce a Girls Pilot Program featuring the most competitive girls' teams around. The goal is to increase competitive play in this tournament to launch an all-girls event in 2022. Next Generation Cup 2021 will also include a VIP Coaches area and a Next Generation Cup minted coin that will serve as an exclusive invitation. Teams that have already accepted to compete in Next Generation Cup 2021 include:

Union Stars Philadelphia, PA
Arsenal FC- California
Nomads SC- California
Futbol Academy of SoCal
Official Tigres Academy of San Antonio
NOKC from Oklahoma
Sporting- Wichita
TFA California

By selecting the best competition through a committee review, The Next Generation Cup has eliminated the element of surprise brackets by hosting a draw party for the team brackets. This is a favorite for coaches that ensures equal and fair draw of teams. The Next Generation Cup is also a family event and is focused on the NEXT GENERATION of players by providing young athletes the opportunity to show off their skills, demonstrate their dedication, and celebrate with friends and family the joy of soccer.

For more information contact: Roger Sosa, Tournament Director 972-284-9819, nextgenerationtournament@gmail.com or,
Alyssa Peña, Sponsorship Director 956-600-6751| Alyssa@GabmitGroupLLC.com


REGISTER HERE:
https://events.gotsport.com/forms/app/default.aspx?eventid=80501

Video Promo:
https://youtu.be/VDdlA2UXOIw

---
Permissions in this forum:
You
cannot
reply to topics in this forum