Latest topics
| | | |
| --- | --- | --- |
| Dallas Surf 2008s Forming at PIT Plano - Come Check Us Out! | Yesterday at 11:00 pm | |
| Solar Covey 12G | Yesterday at 08:10 pm | |
| BVB 2014G | 23/01/22, 12:59 pm | |
| BVB 2015/2016B | 23/01/22, 12:43 pm | |
| 07 ECNL | 23/01/22, 10:02 am | |
| Tournament Guest Play Opportunity | 19/01/22, 09:02 am | |
| FC Dallas - Kounas Looking for Players | 18/01/22, 09:13 pm | |
| Dallas Surf 2012s Looking for 1-2 Players | 18/01/22, 12:33 pm | |
| DKSC 12 Monk JGAL | 18/01/22, 08:20 am | |
| Open Practices | 13/01/22, 10:29 pm | |
| Guest Player Opportunity - Winter Cup 2022 Jan. 28-30th | 11/01/22, 12:22 pm | |
| TOURNAMENT: U90C SPRING KICKOFF - Feb 3-6, 2022 | 10/01/22, 10:05 am | |
| WINTER CUP The Colony 28th-30th Jan 2009 Boys | 09/01/22, 06:24 pm | |
| WINTER CUP The Colony 28th-30th Jan 2010 Girls | 09/01/22, 06:18 pm | |
| Frisco Fusion 13G | 09/01/22, 11:13 am | |
| Frisco Fusion 12G - 2 New Teams Spring 2022! | 09/01/22, 11:01 am | |
| Frisco Fusion 11G - Goalie Needed | 09/01/22, 10:52 am | |
| $15 Friday Night Skills starting this Friday - 1/14/22 | 08/01/22, 07:03 pm | |
| WINTER CUP The Colony 28th-30th Jan 2010 Boys | 08/01/22, 05:04 pm | |
| WINTER CUP The Colony 28th-30th 2012 Girls | 08/01/22, 04:56 pm | |
| WINTER CUP The Colony 28th-30th Jan 2013 Boys | 08/01/22, 04:49 pm | |
| WINTER CUP The Colony 28th-30th Jan 2014 Boys | 08/01/22, 11:55 am | |
| WINTER CUP The Colony 28th-30th Jan 2008 Boys | 08/01/22, 11:50 am | |
| WINTER CUP The Colony 28th-30th Jan 2008 Girls | 08/01/22, 11:44 am | |
| WINTER CUP The Colony 28th-30th Jan 2012 Boys | 07/01/22, 11:39 am | |
Be An Athletic Supporter!
Donate and get this nifty tag!
Statistics
We have
15102
registered users
The newest registered user is
DKSC 13B Camargo Black
Our users have posted a total of
203530
messages in
30888
subjects
Current Rankings ONLY include game results from 11/16/2015 through Present Date.
Only full sided outdoor games played in 08 divisions against 08s will count for rankings.
Results from playing in development leagues SDL and EDL will not be considered.
FBR08G is publishing these rankings and maintaining the data.  The ranking methods, criteria, and formulas are all 100% the same as BWG's rankings in prior age groups with a slight variation.  The games from development leagues (EDL and SDL) will not be included in the rankings and the second variation is that games won in extra time will be recorded as a win and not a tie.  
There has been quite a bit of movement due to the age pure changes. Many of the previous 08 teams are now 07AP teams. 07AP teams will not be included with this FBR. The data has been collected for this age group for over a year and have consulted with BW Gophers for tiers and weights and general review of data.  The goal of this FBR is to provide a data driven unbiased look at the teams as they relate to each other.
Please keep in mind that this is a body of work that is published.  Because team A beat team B last week does not automatically mean team A is ranked higher than team B.  New games carry the same weight as old games.  
If your team is not included you can pm me and let me know where they are playing. Several teams only had two games played.  Minimum of 3 games against 08 teams to be included in the rankings.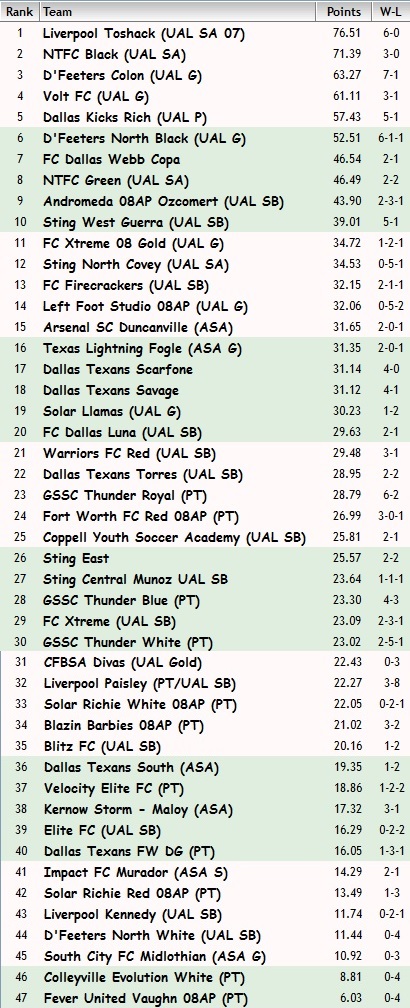 FBR08G

TxSoccer Poster





Posts

: 91


Points

: 2773


Join date

: 2015-03-03



---
Permissions in this forum:
You
cannot
reply to topics in this forum