Latest topics
| | | |
| --- | --- | --- |
| Renegades 12B Blanton | Yesterday at 09:56 pm | |
| Renegades 2012G Blanton | Yesterday at 09:51 pm | |
| Renegades 11G ECNL, RL NTX (BLANTON) | Yesterday at 09:45 pm | |
| Renegades 08G Blanton (ECRL, NTX) | Yesterday at 09:37 pm | |
| McKinney United Blue Premier Copa | Yesterday at 06:25 pm | |
| BVB 09G White open training | Yesterday at 11:44 am | |
| Solar 2010G Shepard GK Needed | Yesterday at 07:55 am | |
| D1 GCL Solar 06 Girls Team | Yesterday at 12:25 am | |
| Juventus FC Dallas needs few more 2008 girls. | 27/05/22, 03:42 pm | |
| Juventus FC Dallas needs few more 2009 girls. | 27/05/22, 03:33 pm | |
| 2009 Manchester SC | 27/05/22, 02:49 pm | |
| McKinney United Black 2011 Girls - Register Now | 27/05/22, 02:21 pm | |
| Sting Black NTX ECNL RL U18/U19G Tryouts | 27/05/22, 09:46 am | |
| Solar Kit Adult small | 27/05/22, 09:22 am | |
| Triumph FC 05G (Stones) - Classic D2 | 27/05/22, 09:04 am | |
| Open Training Tonight for GA and ECNL-RL, NTX | 27/05/22, 08:41 am | |
| FC FAST '10 Boys (Powell) Open Sessions Starting May 17th | 27/05/22, 08:20 am | |
| FC Dallas BU14 ECNL South is looking for talented players | 27/05/22, 12:08 am | |
| Coppell FC 08G - OPEN PRACTICE | 26/05/22, 07:15 pm | |
| 09G GA, ECNL-RL NTX, and GCL D1 - Open Sessions | 26/05/22, 04:55 pm | |
| 09G GA, ECNL-RL NTX, and GCL D1 - Open Sessions | 26/05/22, 04:44 pm | |
| Juventus FC Dallas needs few more 2009 girls. | 26/05/22, 04:27 pm | |
| Juventus FC Dallas needs few more 2008 girls. | 26/05/22, 04:22 pm | |
| Juventus FC Dallas needs few more 2008 girls. | 26/05/22, 04:17 pm | |
| Juventus FC Dallas needs few more 2007 girls. | 26/05/22, 04:12 pm | |
Be An Athletic Supporter!
Donate and get this nifty tag!
Statistics
We have
15251
registered users
The newest registered user is
melissacryer
Our users have posted a total of
204131
messages in
31230
subjects
Join the Dallas Texans for their 1st Annual Turf Cup 3v3 Tournament August 19th & 20th at Game On Arena Sports! This will be a fun filled and fast paced tournament for teams U7-U15 for both boys and girls. Best part, IT'S INDOOR!!!!
REGISTER HERE -> Turf Cup 3v3
For more tournament info please contact Chris Auth 817-367-7800, cauth@gameonfw.com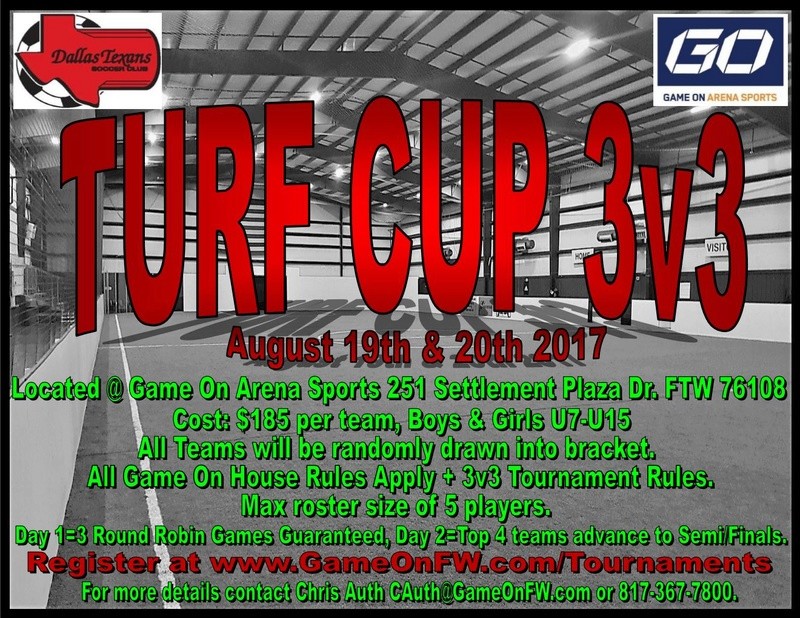 bingbing79

TxSoccer Postmaster





Posts

: 202


Points

: 4025


Join date

: 2012-06-29



We are only 3 weeks away from the Dallas Texans 1st Annual Turf Cup 3v3 Tournament August 19th & 20th at Game On Arena Sports! This will be a fun filled and fast paced tournament for teams U7-U15 for both boys and girls. Best part, IT'S INDOOR!!!!

REGISTER HERE -> Turf Cup 3v3

For more tournament info please contact Chris Auth 817-367-7800, cauth@gameonfw.com

bingbing79

TxSoccer Postmaster





Posts

: 202


Points

: 4025


Join date

: 2012-06-29



We are just a few days away from the Dallas Texans 1st Annual Turf Cup 3v3 Tournament August 19th & 20th at Game On Arena Sports! This will be a fun filled and fast paced tournament for teams U7-U15 for both boys and girls. Best part, IT'S INDOOR!!!!

Here are the following age groups we are looking for a couple more teams. $50 discount for teams that register by tomorrow!!!
2009 girls
2008 girls
2005 girls
2009 boys
2005 boys
For more tournament info and discount code please contact Chris Auth 817-367-7800, cauth@gameonfw.com

REGISTER HERE ->Turf Cup 3v3

bingbing79

TxSoccer Postmaster





Posts

: 202


Points

: 4025


Join date

: 2012-06-29




Soccer1

TxSoccer Lurker





Posts

: 3


Points

: 1732


Join date

: 2017-09-06




Soccer1

TxSoccer Lurker





Posts

: 3


Points

: 1732


Join date

: 2017-09-06




Soccer1

TxSoccer Lurker





Posts

: 3


Points

: 1732


Join date

: 2017-09-06



---
Permissions in this forum:
You
cannot
reply to topics in this forum