Latest topics
| | | |
| --- | --- | --- |
| Solar 14' Rodriguez | 19/09/23, 09:34 pm | |
| TOURNAMENT: VETERAN HEROES CUP - Nov 10-12, 2023 | 13/09/23, 01:32 pm | |
| TOURNAMENT: U90C LEAGUE CHALLENGE CUP - Nov. 17-19 | 13/09/23, 01:27 pm | |
| TOURNAMENT: U90C UPPER 90 CHALLENGE - Dec. 1-3 | 13/09/23, 01:18 pm | |
| Renegades 13G North | 05/09/23, 04:01 pm | |
| Goalkeeper Wanted! 2007G Dallas Texans Soccer Team! | 05/09/23, 09:13 am | |
| Dallas Texans Jim Sendejas (2014,2015,2016,2017's) | 31/08/23, 09:01 am | |
| Goalkeeper Dallas Texans Central Red 09B Dixon | 29/08/23, 10:42 am | |
| ELITE SOCCER TRAINING - ALL AGES | 29/08/23, 09:19 am | |
| Dallas Texans 2017/18G Saldivar | 23/08/23, 11:21 pm | |
| EVOLUTION 14G MCGREGOR/GRAPEVINE/SOUTHLAKE/COLLEYVILLE | 14/08/23, 12:23 pm | |
| '03 Division Outlook | 13/08/23, 03:46 am | |
| Homeschool Soccer teams | 03/08/23, 10:20 pm | |
| Homeschool Soccer teams | 03/08/23, 10:14 pm | |
| Homeschool Soccer Teams | 03/08/23, 10:05 pm | |
| Homeschool Soccer teams | 03/08/23, 09:55 pm | |
| Homeschool Soccer teams | 03/08/23, 09:49 pm | |
| Homeschool Soccer Teams | 03/08/23, 09:42 pm | |
| Homeschool Soccer Teams | 03/08/23, 09:35 pm | |
| Homeschool Soccer Team | 03/08/23, 09:27 pm | |
| Homeschool Soccer Team | 03/08/23, 09:20 pm | |
| Homeschool Soccer Team | 03/08/23, 09:13 pm | |
| Homeschool Soccer Team | 03/08/23, 09:05 pm | |
| Homeschool Soccer Team | 03/08/23, 08:55 pm | |
| Homeschool Soccer Team | 03/08/23, 08:47 pm | |
Be An Athletic Supporter!
Donate and get this nifty tag!
Statistics
We have
15629
registered users
The newest registered user is
harry potter
Our users have posted a total of
205131
messages in
31927
subjects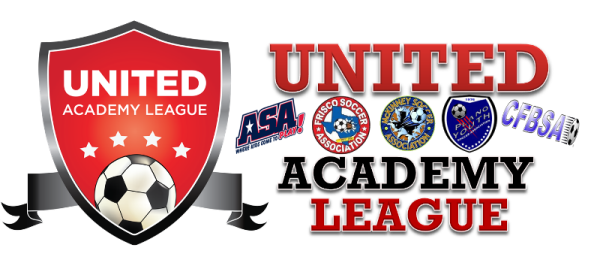 Register Now to Reserve Your Teams Spot
Registration Deadline | August 10th
FALL SEASON (Sat/Sun) | August 26/27 - November 4/5
NO GAMES ON LABOR DAY WEEKEND | September 2/3
DATES INCLUDE POSSIBLE RAIN OUT DATES
LEAGUE INFORMATION
   Reasonable team entry fees - Ask about Club multiple team discounts (10 or more)
   Multiple locations with quality fields - Choice your top three preferred locations
   Quality certified Referees - Ref fees included
   Saturday OR Sunday leagues - Reschedules may be played on other days of the week
   8 game seasons
   Platinum, Gold, Silver A, and Silver B divisions
   Teams/Players allowed to play up
   Conflict reschedules for coaches with competitive teams.
League fees due upon registration.
 *U6 players are not eligible to play in UAL
**4v4 does not have keeper.
Fields are located in Carrollton/Farmers Branch, Frisco, Plano and Mckinney.  
For detailed information read the United Academy League rules for play.
Visit the UNITED ACADEMY LEAGUE website today!!

Register here for SATURDAY league play!
Register here for SUNDAY league play!

Registration for the United Academy League is still open, but will be closing on August 10th!!! Finish your registration ASAP!
Registration for the United Academy League is still open, but will be closing on August 10th!!! Finish your registration ASAP!

Saturday League - Click Here
Sunday league - Click Here
---
Permissions in this forum:
You
cannot
reply to topics in this forum