Latest topics
| | | |
| --- | --- | --- |
| FC Dallas 06B Central Blue - CLASSIC D3 - Open Try Outs | Today at 10:08 pm | |
| Solar 06G Fiaschetti - GCL D1 - Open Practices/Sessions | Today at 09:53 pm | |
| Dallas Surf 10G Premier | Today at 08:57 pm | |
| Renegades 14G/15G North Blanton | Today at 08:57 pm | |
| Renegades 13G North Blanton | Today at 08:52 pm | |
| Renegades 12G North Blanton | Today at 08:36 pm | |
| Renegades 11G Blanton - ECNL-RL, NTX | Today at 08:27 pm | |
| BREAKING** NEW Texas Spirit 11G Clark | Today at 07:21 pm | |
| TEXAS SPIRIT 08 - Clark GCL D1/Tourneys | Today at 07:13 pm | |
| Solar 07B O'Shea looking for players | Today at 06:42 pm | |
| Solar 2010B West Classic D4 BYE | Today at 06:36 pm | |
| Sting Black ECNL 07 | Today at 04:09 pm | |
| FC PREMIER is looking for 2008 Girls | Today at 12:37 pm | |
| FC PREMIER is looking for 2007 Girls | Today at 12:27 pm | |
| 07B north Black (Ekeme) Div 1 open tryouts | Today at 08:32 am | |
| Texas ECNL Final Club Standings (2020-21) | Yesterday at 04:37 pm | |
| 05B NPL NTX Celtic FC- Competes with D1,D2, D3 Classic level | Yesterday at 02:02 pm | |
| DALLAS TEXANS 08 BOYS ECRL - LOOKING FOR STRONG DEFENDER | Yesterday at 11:32 am | |
| 07 Manchester Red-Albion FLEXIBLE tryout times | 18/06/21, 08:36 pm | |
| Dallas Legends FC NEW Boys 2013/14/15/16 TEAM | 18/06/21, 07:08 pm | |
| Dallas Legends FC NEW Boys 2012 TEAM | 18/06/21, 06:51 pm | |
| Dallas Legends FC NEW Boys 2011 TEAM | 18/06/21, 06:36 pm | |
| Dallas Legends FC NEW Girls 2011 TEAM | 18/06/21, 06:28 pm | |
| Dallas Legends FC NEW GIRLS 2012 TEAM | 18/06/21, 06:18 pm | |
| Dallas Legends FC NEW GIRLS 2013 TEAM | 18/06/21, 05:53 pm | |
Be An Athletic Supporter!
Donate and get this nifty tag!
Statistics
We have
14930
registered users
The newest registered user is
swrae
Our users have posted a total of
202749
messages in
30514
subjects
Frisco Jaguars is an independent soccer team that is looking to expand our current roster. We are currently playing in the Plano Premier League. We have a strong core but are looking to add players at all positions, including goalkeeper. We are looking for players that have love and passion for the game and willing to work hard to get better. Being an independent team allows us to keep the cost low, compared to larger clubs.
Our practices place an emphasis on Technical Skills; Better receiving, passing, control of the ball and finishing! We also focus on teaching Tactical Skills; field awareness, creating space and decision making! If you are interested in attending our open practices, please contact me for practice times and location or if you have any other questions.
Coach Martin
469-544-6799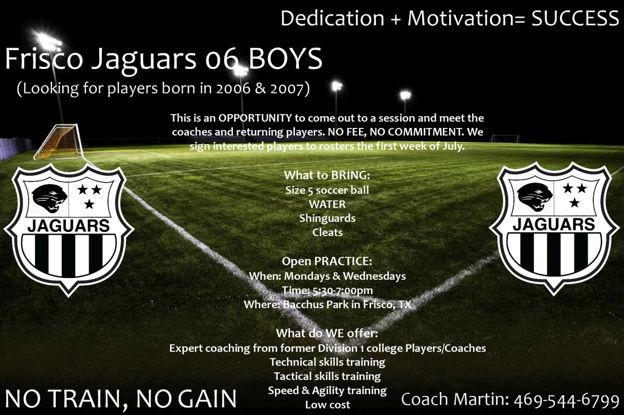 Frisco Futboler

TxSoccer Lurker





Posts

: 4


Points

: 1149


Join date

: 2018-05-09



---
Permissions in this forum:
You
cannot
reply to topics in this forum