Latest topics
| | | |
| --- | --- | --- |
| 07 ECNL | 20/01/22, 03:44 pm | |
| Tournament Guest Play Opportunity | 19/01/22, 09:02 am | |
| FC Dallas - Kounas Looking for Players | 18/01/22, 09:13 pm | |
| Dallas Surf 2012s Looking for 1-2 Players | 18/01/22, 12:33 pm | |
| DKSC 12 Monk JGAL | 18/01/22, 08:20 am | |
| Solar Covey 12G | 13/01/22, 11:02 pm | |
| Open Practices | 13/01/22, 10:29 pm | |
| Guest Player Opportunity - Winter Cup 2022 Jan. 28-30th | 11/01/22, 12:22 pm | |
| TOURNAMENT: U90C SPRING KICKOFF - Feb 3-6, 2022 | 10/01/22, 10:05 am | |
| WINTER CUP The Colony 28th-30th Jan 2009 Boys | 09/01/22, 06:24 pm | |
| WINTER CUP The Colony 28th-30th Jan 2010 Girls | 09/01/22, 06:18 pm | |
| Frisco Fusion 13G | 09/01/22, 11:13 am | |
| Frisco Fusion 12G - 2 New Teams Spring 2022! | 09/01/22, 11:01 am | |
| Frisco Fusion 11G - Goalie Needed | 09/01/22, 10:52 am | |
| $15 Friday Night Skills starting this Friday - 1/14/22 | 08/01/22, 07:03 pm | |
| WINTER CUP The Colony 28th-30th Jan 2010 Boys | 08/01/22, 05:04 pm | |
| WINTER CUP The Colony 28th-30th 2012 Girls | 08/01/22, 04:56 pm | |
| WINTER CUP The Colony 28th-30th Jan 2013 Boys | 08/01/22, 04:49 pm | |
| WINTER CUP The Colony 28th-30th Jan 2014 Boys | 08/01/22, 11:55 am | |
| WINTER CUP The Colony 28th-30th Jan 2008 Boys | 08/01/22, 11:50 am | |
| WINTER CUP The Colony 28th-30th Jan 2008 Girls | 08/01/22, 11:44 am | |
| WINTER CUP The Colony 28th-30th Jan 2012 Boys | 07/01/22, 11:39 am | |
| WINTER CUP The Colony 28th-30th Jan 2011 Girls | 07/01/22, 09:34 am | |
| WINTER CUP The Colony 28th-30th Jan 2011 Boys | 06/01/22, 02:38 pm | |
| WINTER CUP The Colony 28th-30th Jan 2005 Girls | 06/01/22, 12:12 pm | |
Be An Athletic Supporter!
Donate and get this nifty tag!
Statistics
We have
15101
registered users
The newest registered user is
Born2Lose
Our users have posted a total of
203525
messages in
30885
subjects
Here are the final results including the D1 and D3 qualifiers for the 08 group.  In short, if you are a top 30 team in FBR coming into QT you basically have an 86% chance of qualifying for LH based on roughly 7 years of historical data.  
It has been a pleasure doing FBR for the last four years.  Good luck to all the teams moving forward!  FBR08G out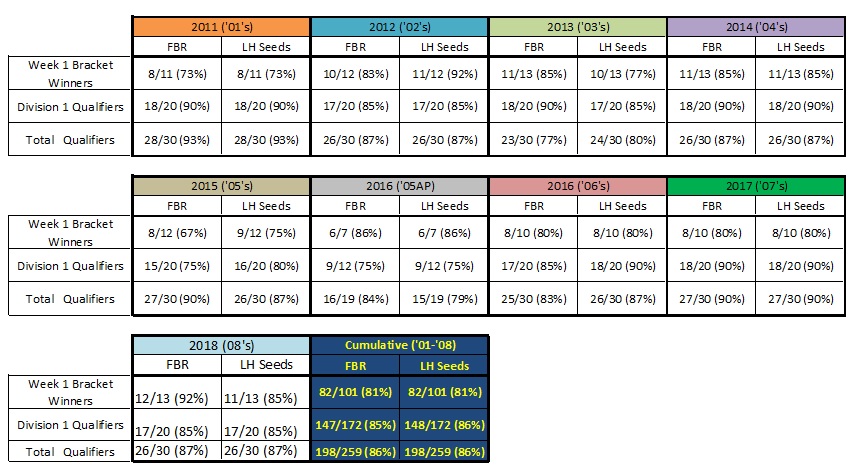 FBR08G

TxSoccer Poster





Posts

: 91


Points

: 2770


Join date

: 2015-03-03



Good Job FBR08!! Looks like KW messed your numbers a bit w FCD JDL Blue and using Red players, but I had SRSA spread out all over. Ehh, something gonna happen every year but FBR has proven to be accurate.

Enjoy retirement! FBR09, all eyes on you.

boilerjoe_96

TxSoccer Author





Posts

: 646


Points

: 4296


Join date

: 2012-04-26



---
Permissions in this forum:
You
cannot
reply to topics in this forum