Latest topics
| | | |
| --- | --- | --- |
| 2007 Boys Open Practice - N FortWorth, Keller, Alliance Area | Today at 06:02 pm | |
| 2006 Boys Open Practice - N FortWorth, Keller, Alliance Area | Today at 05:56 pm | |
| 2010 Boys Open Practice - N FortWorth, Keller, Alliance Area | Today at 05:51 pm | |
| Looking for B'2012 team in Keller area | Today at 05:45 pm | |
| 2013 Boys Open Practice - N FortWorth, Keller, Alliance Area | Today at 05:40 pm | |
| 2014 Girls - N FortWorth, Keller, Alliance Area | Today at 05:33 pm | |
| Spring Skills - Keller | Today at 05:23 pm | |
| RISE8FC 07g looking to add player to SPRING roster (NO FEES) | Today at 04:47 pm | |
| Black Knights FC | Today at 04:15 pm | |
| 07 Girls 16th Annual Winter Cup 29th-31st January The Colony | 21/01/21, 03:09 pm | |
| DKSC 13G Vielma | 21/01/21, 12:20 pm | |
| Renegades 11G North - Blanton | 21/01/21, 10:46 am | |
| 16th Annual Winter Cup 29th-31st January The Colony | 20/01/21, 11:21 pm | |
| Texas Spirit 11 Monk | 20/01/21, 08:03 am | |
| Texas Spirit 12 Monk | 20/01/21, 07:48 am | |
| Premier League Clubs' Interesting Nicknames | 20/01/21, 02:25 am | |
| Texas Spirit 05 Bewley | 19/01/21, 09:20 pm | |
| Next Generation Cup 2021 | 19/01/21, 03:06 pm | |
| 09 Girls 16th Annual Winter Cup 29th-31st January The Colony | 19/01/21, 10:40 am | |
| 08 Boys 16th Annual Winter Cup 29th-31st January The Colony | 19/01/21, 10:32 am | |
| 2012 Boys 16th Annual Winter Cup 29th-31st January The Colony | 19/01/21, 10:27 am | |
| 09 Boys 16th Annual Winter Cup 29th-31st January The Colony | 18/01/21, 09:34 pm | |
| 16th Annual Winter Cup 29th-31st January The Colony | 18/01/21, 04:02 pm | |
| 16th Annual Winter Cup 29th-31st January The Colony | 18/01/21, 12:13 pm | |
| 07 Boys 16th Annual Winter Cup 29th-31st January The Colony | 18/01/21, 12:08 pm | |
Be An Athletic Supporter!
Donate and get this nifty tag!
Statistics
We have
14617
registered users
The newest registered user is
MegaDad5000
Our users have posted a total of
200863
messages in
29621
subjects
LOOKING FOR A COUPLE GREAT FIELD PLAYERS AND EXPERIENCED GOALIE.
IF YOU ARE AN 09 WANTING TO PLAY UP GIVE US A CALL.
WE WILL BE PLAYING IN TEXAS CLUBS SELECT LEAGUE D2
WE WILL PARTICIPATE IN 6-8 TOURNAMENTS AND ALSO INDOOR
WE ARE A CLOSE TEAM JUST LOOKING FOR SOME ADDITIONAL PLAYERS
COME JOIN OUR EAGLE FAMILY!!!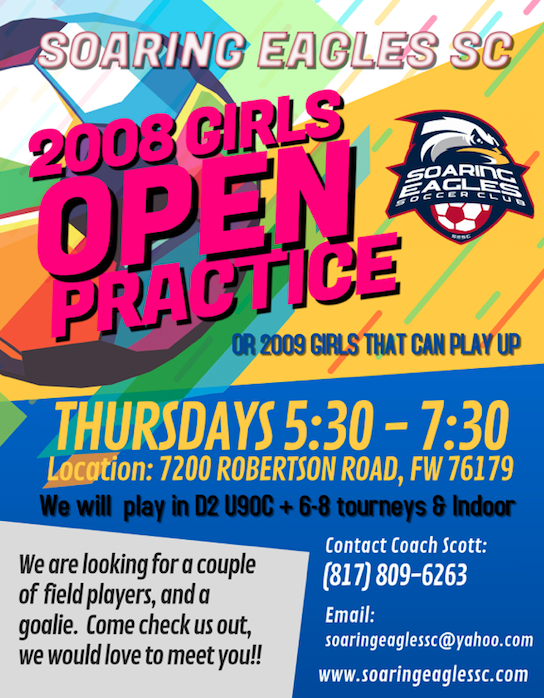 tcheek

TxSoccer Poster





Posts

: 14


Points

: 742


Join date

: 2019-02-26



---
Permissions in this forum:
You
cannot
reply to topics in this forum