Latest topics
| | | |
| --- | --- | --- |
| Dallas Texans 15B Saldivar | 24/01/23, 10:03 am | |
| Frisco Fusion 13G Blue (Axon) | 22/01/23, 11:44 pm | |
| Frisco Fusion 11G Blue (Axon) | 22/01/23, 11:38 pm | |
| Solar 16's Girls Shepard | 18/01/23, 07:27 am | |
| New Club: StrikerZ DFW Youth | 17/01/23, 08:57 pm | |
| New Club: StrikerZ DFW Youth | 17/01/23, 08:49 pm | |
| StrikerZ DFW Youth U10-U13 Girls and Boys Tryouts | 17/01/23, 08:34 pm | |
| StrikerZ DFW Youth U10 Girls Tryouts | 17/01/23, 08:27 pm | |
| Winter Cup 2023 27th-29th January | 16/01/23, 09:23 am | |
| TOURNAMENT: U90C SPRING KICKOFF - Feb 2-5, 2023 | 12/01/23, 10:00 am | |
| Dallas Texans 2016G Fraga & Ramirez teams | 10/01/23, 10:36 am | |
| Gio Reyna's Mom Outs Berhalter to USSF | 04/01/23, 05:41 pm | |
| Dallas Texans Ramirez 2013G | 04/01/23, 02:18 am | |
| BVB 2015 Boys - Wylie, Rockwall, Plano | 02/01/23, 04:56 pm | |
| PD1 Supplemental Training | 01/01/23, 11:28 am | |
| TOURNAMENT: U90C HILL COUNTRY CLASSIC - MOVED TO NTX- Jan 27 | 20/12/22, 10:09 am | |
| Best/Worst 07/06/05 Coaches? | 17/12/22, 12:58 am | |
| TEXAS STATE CUP - US CLUB SOCCER - April 20-23, 2023 | 15/12/22, 11:05 am | |
| Sting 2013G Team looking for a Keeper | 14/12/22, 02:44 pm | |
| RPL SPRING 2023 (ACADEMY + 2011 11v11 Divisions) REG. OPEN | 12/12/22, 03:07 pm | |
| 13G Texas Spurs FC- Pierson | 12/12/22, 12:37 pm | |
| RINGERS | 10/12/22, 10:36 am | |
| SOLAR WEST- 12,13,14 Boys- Roanoke the Pit fields | 07/12/22, 01:40 pm | |
| 2014-2017 Boys welcome * Dallas Texans | 28/11/22, 01:57 pm | |
| Solar 13 Shepard | 17/11/22, 09:15 pm | |
Be An Athletic Supporter!
Donate and get this nifty tag!
Statistics
We have
15379
registered users
The newest registered user is
aadhyav
Our users have posted a total of
204683
messages in
31562
subjects
Texas Spurs 10G is looking for a few more players to join our roster as we start our first year in select soccer. Once we are able to train again, sessions will be held at Michael Johnson Performance in McKinney and Texas Spurs Park in Fairvew.

The team is coached by Amanda Pierson and assisted by Kelsey Sheldon.

We are training twice a week on zoom and have soccer training videos, yoga sessions over zoom, and other resources for players during this time that players looking for a home are welcome to join in on.  

If you are interested please contact Coach Amanda Pierson. Phone: 469-450-6905 Email: Amanda.mcmullan21@yahoo.com
Last edited by soccercoach21 on 12/05/20, 08:08 pm; edited 1 time in total (Reason for editing : Fixed link)
The Texas Spurs 2010 Girls will be holding opened practices this week.

Monday 5:30-7PM at Al Ruschhaupt

Wednesday 5:30-7PM at Al Ruschhaupt

We will be on the side with lights wearing white on Monday and royal blue on Wednesday.

Al Ruschhaupt: 1986 Park View Ave, McKinney, TX 75070


Contact Coach Amanda with more information 469-450-6905.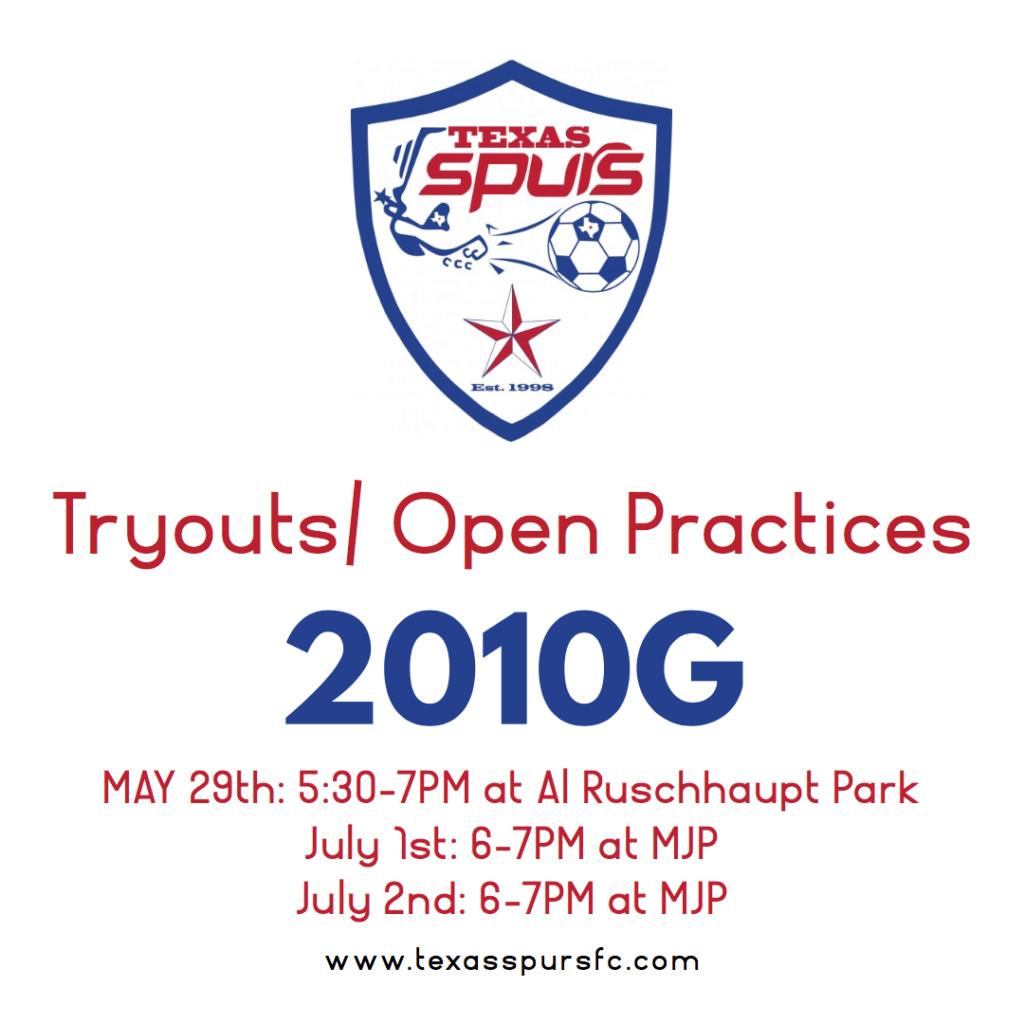 Opened Practice and Tryouts!
If you haven't found a home yet and are trying to determine where to go for your daughters first year of club soccer, come check us out! Our group has a solid foundation set from academy and are looking forward to starting club soccer together! This team is Coached by Coach Amanda and Coach Kelsey, both high level soccer players that played college, professional, and semi-professional. They also have a long resume of coaching and make a great team! This is a great place for players to begin their club career! Please feel free to reach out to Coach Amanda directly with any questions.
Amanda.mcmullan21@yahoo.com 459-450-6905
We are looking for 1-2 more solid players for this upcoming year. This group is skilled, athletic, hard working, and are looking forward to their first year of club ball! We practice in the Allen/ Mckinney area and will be playing in the RDL league this upcoming year. Come check us out if you are still looking for a good home for your daughter!
Similar topics
---
Permissions in this forum:
You
cannot
reply to topics in this forum