Latest topics
| | | |
| --- | --- | --- |
| Sleepless in Seattle | Today at 08:14 pm | |
| Juventus FC Dallas 2007 Girls. FORZA JUVE | Today at 05:23 pm | |
| 2009G Dallas Texans | Today at 01:10 pm | |
| Texas Xtreme '10 Girls Tryouts | Today at 10:12 am | |
| BVB 04/05 ECNL RL NTX / GA2 | Today at 10:10 am | |
| BVB 08B SEDEH - CLASSIC D2 | Today at 10:00 am | |
| Texas Xtreme '05 Tryouts | Today at 10:00 am | |
| BVB 08G ECNL RL NTX / GA2 | Today at 09:49 am | |
| Last Call! FC Dallas ECNL RL Try-outs | Yesterday at 03:23 pm | |
| Seeking adult small BVB kit | Yesterday at 03:03 pm | |
| Dallas Texans 10G (previously Renegades 10G Saldivar) | Yesterday at 01:22 pm | |
| Juventus Premier FC 10g | Yesterday at 01:10 pm | |
| Sting NTX Black RL U18/U19G Tryout Details | 29/06/22, 05:32 pm | |
| Sting Black NTX ECNL RL U18/U19G Tryouts | 29/06/22, 05:04 pm | |
| Frisco FC TRYOUT | 29/06/22, 01:51 pm | |
| Kernow Storm FC 13B (Bradford) | 29/06/22, 12:40 pm | |
| Kernow Storm FC 14B (Bradford) | 29/06/22, 09:18 am | |
| Dallas Texans Central - 2011 Girls - ECNL/RL - Classic 2 | 28/06/22, 03:12 pm | |
| Dallas Texans 10G (previously Renegades 10G Saldivar) | 28/06/22, 12:21 pm | |
| Texas Xtreme '05 Girls | 28/06/22, 12:19 pm | |
| Texas Xtreme '10 Girls | 28/06/22, 12:09 pm | |
| Juventus FC Dallas 2007 Girls LAST TRYOUT | 28/06/22, 11:20 am | |
| 2011B - Grand Prairie, Arlington, Mansfield, Irving, Dallas | 28/06/22, 10:52 am | |
| 2009B - Grand Prairie, Arlington, Mansfield, Irving, Dallas | 28/06/22, 10:47 am | |
| 2014B - Grand Prairie, Arlington, Mansfield, Irving, Dallas | 28/06/22, 10:42 am | |
Be An Athletic Supporter!
Donate and get this nifty tag!
Statistics
We have
15300
registered users
The newest registered user is
Shelley1969
Our users have posted a total of
204528
messages in
31479
subjects
Coppell FC 06B Williams is holding open practices Mon/Thurs at 7:15pm for all of June. The core of the team has been together for 5 years. Fantastic coach, low fees, practice on City fields with lights, and a great group of committed boys and parents. Visit https://coppellfc.com/select.
Coach George Williams | georgewilliams.coppellfc@gmail.com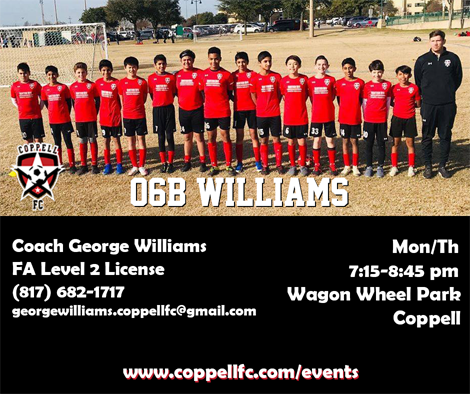 Similar topics
---
Permissions in this forum:
You
cannot
reply to topics in this forum