Latest topics
| | | |
| --- | --- | --- |
| BVB 2014G | Yesterday at 12:59 pm | |
| BVB 2015/2016B | Yesterday at 12:43 pm | |
| 07 ECNL | Yesterday at 10:02 am | |
| Tournament Guest Play Opportunity | 19/01/22, 09:02 am | |
| FC Dallas - Kounas Looking for Players | 18/01/22, 09:13 pm | |
| Dallas Surf 2012s Looking for 1-2 Players | 18/01/22, 12:33 pm | |
| DKSC 12 Monk JGAL | 18/01/22, 08:20 am | |
| Solar Covey 12G | 13/01/22, 11:02 pm | |
| Open Practices | 13/01/22, 10:29 pm | |
| Guest Player Opportunity - Winter Cup 2022 Jan. 28-30th | 11/01/22, 12:22 pm | |
| TOURNAMENT: U90C SPRING KICKOFF - Feb 3-6, 2022 | 10/01/22, 10:05 am | |
| WINTER CUP The Colony 28th-30th Jan 2009 Boys | 09/01/22, 06:24 pm | |
| WINTER CUP The Colony 28th-30th Jan 2010 Girls | 09/01/22, 06:18 pm | |
| Frisco Fusion 13G | 09/01/22, 11:13 am | |
| Frisco Fusion 12G - 2 New Teams Spring 2022! | 09/01/22, 11:01 am | |
| Frisco Fusion 11G - Goalie Needed | 09/01/22, 10:52 am | |
| $15 Friday Night Skills starting this Friday - 1/14/22 | 08/01/22, 07:03 pm | |
| WINTER CUP The Colony 28th-30th Jan 2010 Boys | 08/01/22, 05:04 pm | |
| WINTER CUP The Colony 28th-30th 2012 Girls | 08/01/22, 04:56 pm | |
| WINTER CUP The Colony 28th-30th Jan 2013 Boys | 08/01/22, 04:49 pm | |
| WINTER CUP The Colony 28th-30th Jan 2014 Boys | 08/01/22, 11:55 am | |
| WINTER CUP The Colony 28th-30th Jan 2008 Boys | 08/01/22, 11:50 am | |
| WINTER CUP The Colony 28th-30th Jan 2008 Girls | 08/01/22, 11:44 am | |
| WINTER CUP The Colony 28th-30th Jan 2012 Boys | 07/01/22, 11:39 am | |
| WINTER CUP The Colony 28th-30th Jan 2011 Girls | 07/01/22, 09:34 am | |
Be An Athletic Supporter!
Donate and get this nifty tag!
Statistics
We have
15101
registered users
The newest registered user is
Born2Lose
Our users have posted a total of
203528
messages in
30887
subjects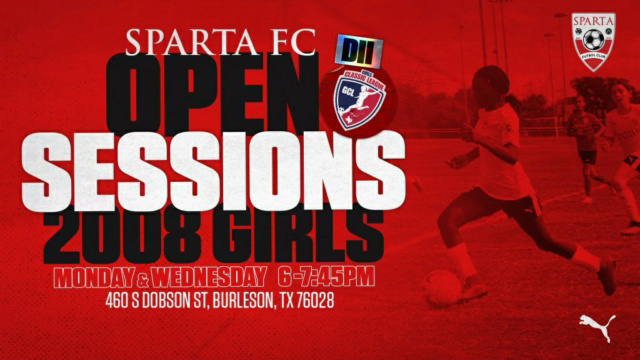 We are 2 spots away from max roster with a very talented core. Looking to put the "cherry on top" with a couple of attack-minded players who can shoot with confidence and live to score goals. Please join us at our last few practice sessions from 6pm to 7:45pm on the main field of the Sparta Practice Complex.
Address: 460 S. Dobson, Burleson TX. 76028
Feel free to reach out to Coach Casey @ 817-991-5248  or email to loswrights@att.net.
---
Permissions in this forum:
You
cannot
reply to topics in this forum